We regularly publish some great healthy living tips, new recipes and other Prune tidbits on our blog
Intolerances
Posted Fri, Jun 11, 21 by Sunsweet
Following a gluten free diet has become much more popular and widespread, over recent years. A report by USA Today, for example, found that as many as one in four people were now attempting to live gluten free. In this feature, we will explore the differences between gluten sensitivity and coeliac disease and take a look at hints and tips for living gluten free, with the minimum of fuss.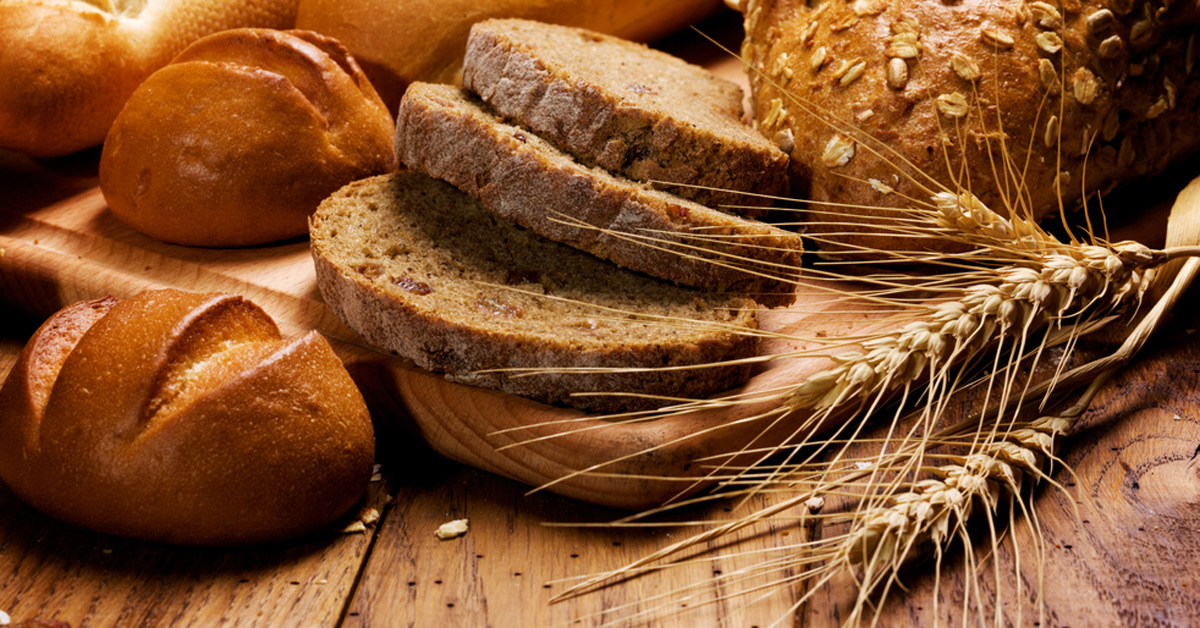 What is Gluten?
But, first, what exactly is this gluten that we hear so much about? Gluten is the protein that is found in the grains – like wheat and barley and rye – that feature heavily in the everyday diets of so many of us. Think of all the bread and pasta and breakfast cereals that our families consume on a daily basis.
Many people report feeling bloated and sluggish after a particularly gluten rich meal, leading them to make a lifestyle choice of avoiding the protein wherever possible. Experts now believe that mild symptoms, like these, could be due to a sensitivity to gluten. The British Medical Journal does warn against self-diagnosis, though, because such symptoms could be down to something more serious, like coeliac disease.
Coeliac Disease
For people with coeliac disease - an autoimmune response to gluten – exclusion, for life, is the only treatment for the condition. It is estimated that around one percent of the population is affected by the condition. According to the NHS, "Reported cases of coeliac disease are two to three times higher in women than men and can develop at any age, although symptoms are most likely to develop during early childhood and in later adulthood."
Coeliac disease – because it irritates and then subsequently damages the lining of the gut - causes painful diarrhoea that, in turn, can lead to weight loss, anaemia, extreme tiredness and even osteoporosis. (Why not take a look at our features on bone health, to find out more about this?). A gluten free diet allows the gut to heal and for the symptoms to improve.
Gluten Free Choices
The good news is that a gluten free diet doesn't have to be too restrictive. Many foods – like meat and fish, rice and potatoes, vegetables and fruit – can still be enjoyed as part of a healthy, balanced diet. Cafes and restaurants are now much more geared up towards offering a gluten free choice. And the even better news is that prunes are a naturally gluten free food – a serving of prunes or a glass of prune juice can be included in a gluten free diet. You can also add them to your favourite coeliac-friendly recipes for a sweet and fruity twist.
Need some inspiration?
Check out our recipe pages where we've recently added new gluten free recipes like Light Prune Focaccia, Dense Chocolate Cake, Homemade Lemon and Poppy Seed Cake … no need to compromise on taste.
We recommend you seek medical advice before making dietary changes.
Posted Fri, Jun 11, 21 by Sunsweet
Our Light Prune Focaccia combines the wonderfully aromatic flavours of rosemary sprigs, sea salt and cherry tomatoes with sweet, versatile and super- scrumptious prunes. Made with gluten-free flour, our Light Prune Focaccia is a great option for anybody who is avoiding gluten. But it's also a great option for anybody who simply loves fresh, home-made bread. Our Focaccia is the perfect, Italian-style accompaniment to a range of healthy soups and salads. Delicious!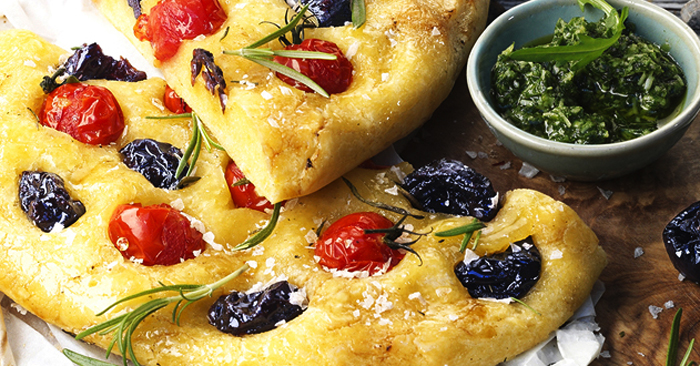 Ingredients
7 g dry yeast
1 tsp. sugar
1 tsp. salt
40 ml olive oil
350 g gluten-free flour
3 sprigs of rosemary, 2 of them chopped
100 g California prunes
12 cherry tomatoes
Coarse sea salt
Other:
Ovenproof pan 26 cm
Instructions
Dissolve yeast and sugar in 250 ml lukewarm water. Add 30 ml of olive oil. Mix flour with salt, chopped rosemary and prunes. Add the dissolved yeast and stir until smooth. Pour dough into a bowl and let rise for about 1 hour until it has doubled.
Knead the dough again and form a shape that fits into the pan. Using your knuckle, make indentations in the dough, then prick with fork. Brush the pan with some of the olive oil and place the dough inside. Press cherry tomatoes into the dough. Drizzle with the remaining oil. Sprinkle with sea salt and rosemary.
Place into the preheated oven at 180° C (convection oven 160° C) and bake for 35 minutes. Cut the focaccia into pieces and serve.
Tip: Focaccia goes particularly well with rocket pesto.
Other recipes you might be interested in...
Posted Fri, Jun 11, 21 by Sunsweet
Irritable Bowel Syndrome with constipation is surprisingly common. And with a range of distressing – and potentially life-limiting – symptoms, it's something that you're going to want to nip in the bud. Fast. But don't worry. Help is out there. And there are a number of simple, self-care solutions that might just do the trick.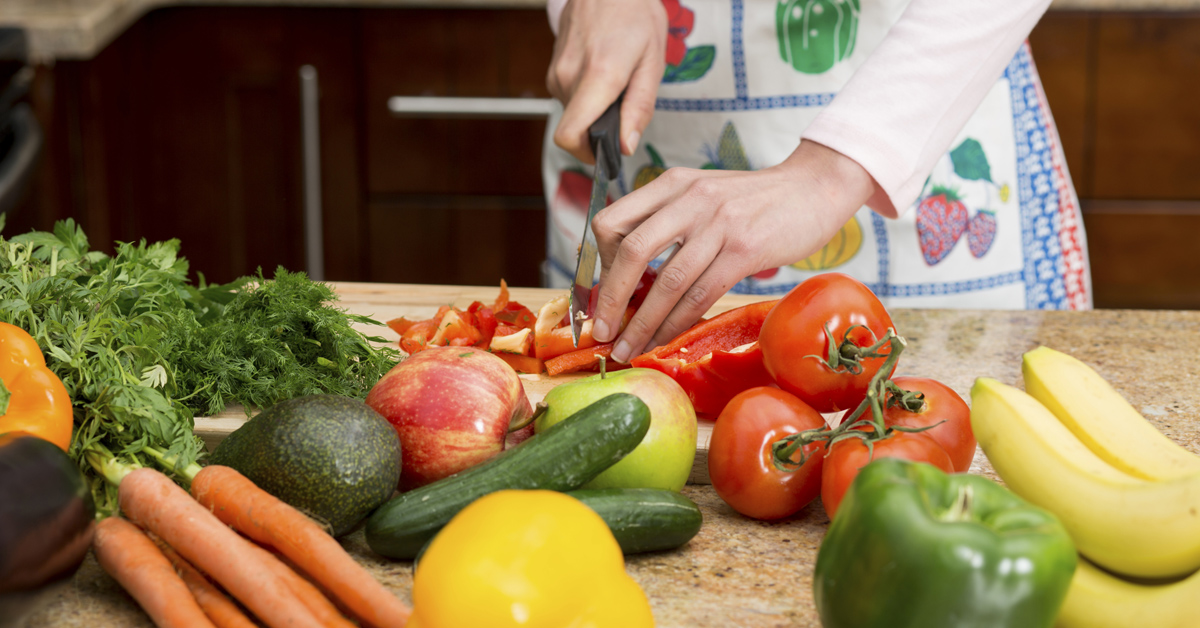 The Surprising Prevalence of IBS
If you are suffering from Irritable Bowel Syndrome (IBS) you are not alone. According to the IFFGD (*), 10-15% of the World's population suffer from this common complaint. Women, interestingly, are twice as likely to be affected by the syndrome as men. 40% of people have mild IBS, 35% of people have moderate IBS and 25% of people have severe IBS. And yet many people don't recognise their symptoms
(*) International Foundation for Functional Gastrointestinal Disorder
What is IBS and what causes it?
IBS is a condition that relates to symptoms - otherwise unexplained – that affect the digestive system. Symptoms can vary dramatically in their severity and duration and they can also come and go. Although the specific causes of IBS are not clear, psychological factors like stress can be a trigger factor for bringing on symptoms. Diet, food and eating can also affect symptoms with many sufferers noticing that their symptoms appear worse after a meal leading them to speculate about potential food allergies or intolerances. IBS has been subcategorised based on the symptoms: IBS with diarrhoea; IBS with constipation: or mixed, which includes both diarrheal and constipation traits.
Sufferers from IBS with Constipation (IBS-C), suffer from constipation.
Prunes and Normal Bowel Function
Prunes are high in fibre and contribute to normal bowel function when 100g prunes are eaten daily and as part of a varied and balanced diet and active lifestyle. And unlike many juices, prune Juice is a source of fibre.
Managing the Symptoms of IBS-C
The symptoms of IBS-C can often be managed by making dietary and lifestyle changes. People with IBS-C can take steps to alleviate their symptoms by modifying the amount of fibre that they include in their diet. The two main types of fibre are soluble (that the body can digest) and insoluble (that the body can't). Soluble fibre foods include oats, fruit and vegetables. Insoluble fibre foods include wholegrain bread and cereals. If you suffer from IBS-C, it makes sense to try to boost the amount of fibre in your diet and also the amount of fluids that you take in. The IBS Network, in the UK. echo traditional dietary advice for treating constipation and advocate:
Boosting the amount of fibre in the diet, adding linseed to cereals and so on.
Eating oats with dried fruit – especially prunes and apricots – for breakfast each morning
Upping your fruit and veg intake, prunes and beetroot are particularly helpful.
Is there support available for people suffering from IBS-C?
You'll be relieved to hear that there is some excellent support out there. In fact, we've collaborated with The IBS Network UK – the country's national charity for sufferers of the syndrome - to produce a comprehensive, fact-based document packed full of up-to-date info and useful advice about managing IBS-C. The Network aims to facilitate a programme of self-care for sufferers by providing them with good quality information and support.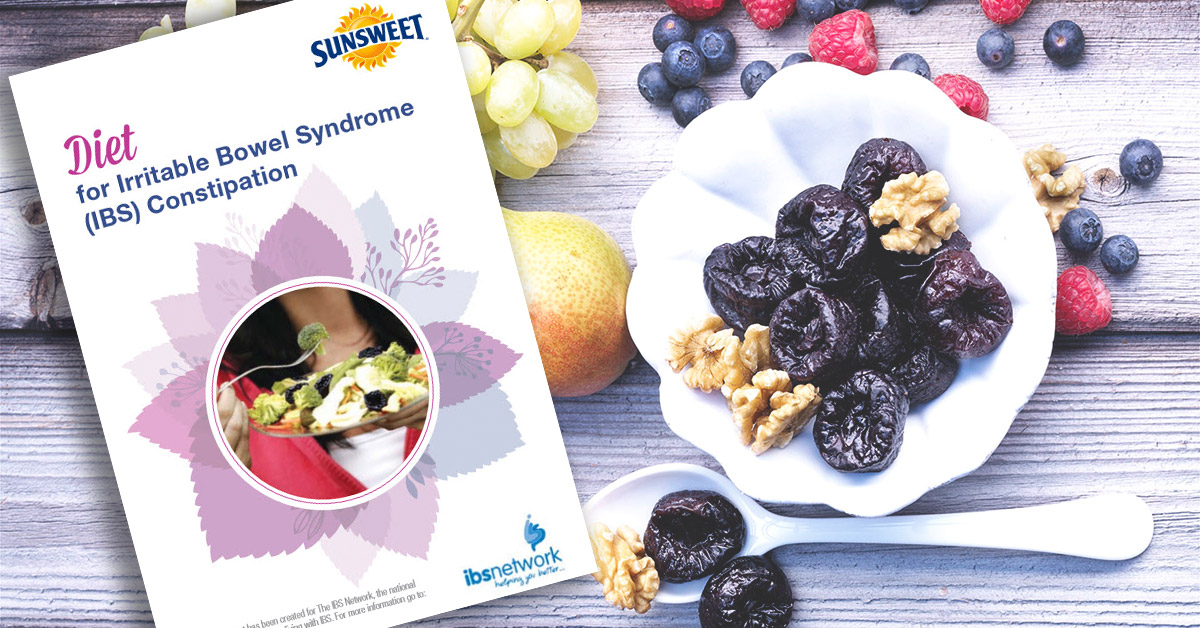 Dietary hints and tips
The importance of fibre in the management of IBS-C
Foods to include
Foods to avoid
An example of a daily food plan
PS: Looking for more info on digestion-related topics? Check out our Digestion 101.
Please Note: Prunes are good for digestion and help keep you regular, when 100g are eaten as part of a varied and balanced diet and an active lifestyle. Always consult a GP if you have any health concerns.
Posted Fri, Jun 11, 21 by Sunsweet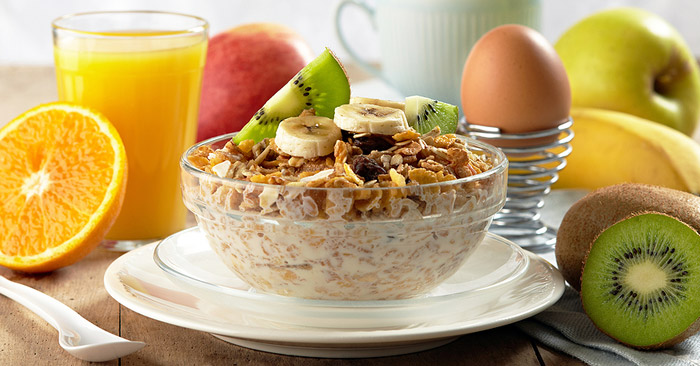 Most of us have heard the phrase "you are what you eat". However Dr. Nick Read, gives us a fresh perspective on this old saying including - "you are how you eat".
Professor Nick Read is a consultant gastroenterologist and analytical psychotherapist. He uses both of these disciplines in combination to investigate and treat patients with mind-body diseases, particularly those with functional gastrointestinal disorders.
Dr. Read is currently the Chair of the IBS Network in the UK, an independent charity dedicated to support, inform and advise people with Irritable Bowel Syndrome (IBS).
While encouraging us to make the 5-a-day an integral part of our daily nutrition plans, he also draws our attention to the environment and manner in which we consume food. Relaxation, company and liking what you eat, for instance, all contribute to digestive health and overall well-being.
Maintaining the right fibre intake can also help many of our digestion and bowel problems. Dr. Read recommends natural prune juice (like Sunsweet®) as a nutritious and stimulating addition to the daily diet. It contributes to the veggie and fruit intake and also helps the digestive system.
Watch our Eating and Drinking Well video and hear what Dr. Read has to say about the positive impact of a healthy diet on constipation and his recommendations on natural treatments and preventative measures.