Our Light Prune Focaccia combines the wonderfully aromatic flavours of rosemary sprigs, sea salt and cherry tomatoes with sweet, versatile and super- scrumptious prunes. Made with gluten-free flour, our Light Prune Focaccia is a great option for anybody who is avoiding gluten. But it's also a great option for anybody who simply loves fresh, home-made bread. Our Focaccia is the perfect, Italian-style accompaniment to a range of healthy soups and salads. Delicious!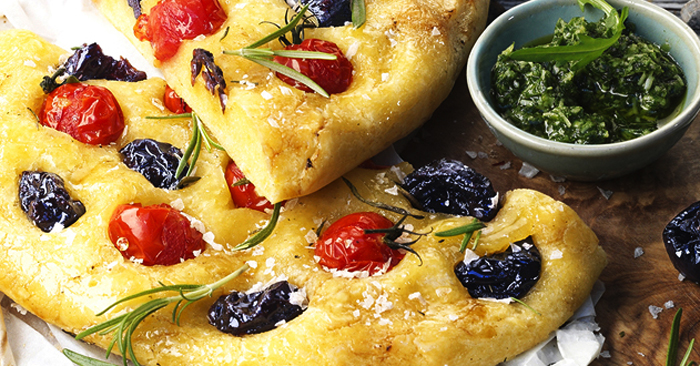 Ingredients
7 g dry yeast
1 tsp. sugar
1 tsp. salt
40 ml olive oil
350 g gluten-free flour
3 sprigs of rosemary, 2 of them chopped
100 g California prunes
12 cherry tomatoes
Coarse sea salt
Other:
Ovenproof pan 26 cm
Instructions
Dissolve yeast and sugar in 250 ml lukewarm water. Add 30 ml of olive oil. Mix flour with salt, chopped rosemary and prunes. Add the dissolved yeast and stir until smooth. Pour dough into a bowl and let rise for about 1 hour until it has doubled.
Knead the dough again and form a shape that fits into the pan. Using your knuckle, make indentations in the dough, then prick with fork. Brush the pan with some of the olive oil and place the dough inside. Press cherry tomatoes into the dough. Drizzle with the remaining oil. Sprinkle with sea salt and rosemary.
Place into the preheated oven at 180° C (convection oven 160° C) and bake for 35 minutes. Cut the focaccia into pieces and serve.
Tip: Focaccia goes particularly well with rocket pesto.
Other recipes you might be interested in...