History of Sunsweet - The birth of a legend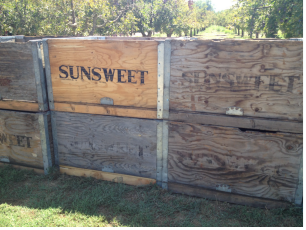 Sunsweet has a fruit growing and drying heritage that is over 100 years old. The company is made up of a cooperative of growers, many of them family businesses that bring generations of expertise to the craft of cultivating prunes.  The farmer growers produce high quality dried fruit and market them using the Sunsweet brand. Sunsweet supplies about one-third of the worldwide prune market. Over recent years, our product range has been expanded to meet our customers' demands for health and convenience. Some 260,000 tonnes of prunes are eaten annually, with consumers around the world recognising them as a nutritious and flavour-filled treat.
The original variety of plum used at Sunsweet was introduced to Europe, from Asia, in the 15th century. French nurseryman, Louis Pellier, is credited with bringing prune plums to California.
Interesting Fact #1:
To give the saplings the best chance of survival during their long journey overseas, each of the fruit tree cuttings was painstakingly preserved, by being inserted into a potato, before being further protected by sawdust and carefully packed into trucks.
Louis Pellier arrived in America during the gold rush, in the 1850s. When he didn't strike it rich panning for gold, he decided to try his luck – and make his fortune – by growing produce instead. Louis imported prune plums from his native Agen in France to his new home, in California. The cuttings flourished in the fertile valleys under the warm Californian sun.
Interesting Fact #2:
The Sunsweet prune was started as a cultivar developed by famed horticulturist Luther Burbank who spent 40 years perfecting the prunes using Pellier's D'Agen stock.
A few short years later, in 1917, a group of dedicated farmers founded the Sunsweet Growers Association.  They were passionate about delivering, delicious, nourishing prunes of the highest quality. They believed by sharing their expertise, knowledge and probably a few good stories, they could become the world's leading experts in prune cultivation and processing.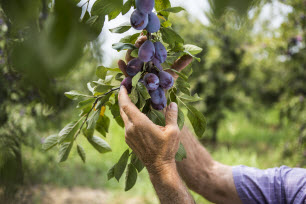 Ever since then, for almost 100 years, Sunsweet has accumulated, improved and utilized its knowledge and expertise, to ensure only the best prunes are sold under its brand. 
Today, Sunsweet is the largest and most sophisticated prune supplier in the world, with the highest product quality standards - from fruit cultivation to final packaging.
Undoubtedly the Sunsweet farmers of 1917 would be proud, of the Co-op's growth, the fact that the Sunsweet brand is enjoyed in over 45 countries worldwide and that their cooperative continues to innovate, improve and deliver the best prunes possible to our customers.