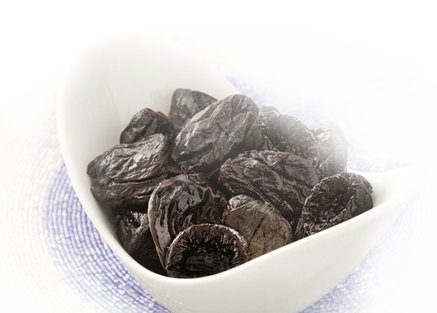 what you should know about prune Juice


Nutritional Facts: Prune Juice

We have prepared a summary of nutritional facts for prune juice using our interactive swivel cards which we hope will be easy for you to digest - pardon the pun!  We also  provide some detailed information on each of these nutrition facts which you can read below:
Nutrients
Fibre
Sunsweet prune juice is a source of dietary fibre. Very few pure fruit juices can boast providing fibre in any meaningful amounts.
Sorbitol
Sorbitol, which is a polyol, is a type of carbohydrate. In the bowel it attracts and holds water like a sponge, not all sorbitol is digested which is why it is so useful.
Potassium
Sunsweet prune juice is a source of potassium.
Potassium:

Supports a healthy nervous system.
Helps your muscle work normally.
Supports normal blood pressure.
Nothing Added
No Salt*
Sunsweet prune juice is naturally salt-free.
Reducing intake of salt (sodium) helps maintain normal blood pressure.
No Fat*
Sunsweet prune juice is naturally free from fat and saturated fat.
Reducing consumption of saturated fat helps maintain normal blood cholesterol levels.
No Additives 
Sunsweet prune juice is 100% natural with nothing added, no acidity regulators, colourings or flavourings. (Fruit juices do not contain preservatives).
*Like all juices
Prunes and prune juice can be enjoyed as part of a varied and balanced diet and a healthy lifestyle. For detailed information on the nutrition content of prunes and prune juice please visit our products page.