Digestive Health Guide
Our present-day lifestyle doesn't help our gut - things like stress, a fast-paced life and less time to exercise can put a strain on our sensitive gut.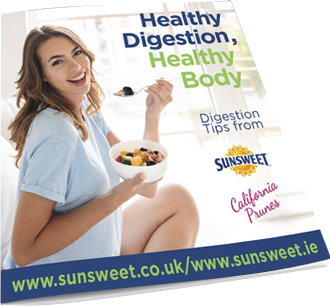 Slow digestion can affect all age groups alike, and as time goes on, can lead to complications such as chronic constipation.

So how do we stay healthy and keep our tummy happy while staying on top? What does it mean to have healthy digestion? Where do we start?

Our nifty guide gives tips on what dishes we can eat to give our digestion the kick-start it needs. Other activities such as exercise and just paying more attention to our bodies are just some of the ways we can get our digestion back on track!

In our guide, we talk about:
what the experts say
what foods to eat
how prunes can help
eating mindfully
the role of exercising and relaxation

Note: There is no requirement to register for this free PDF.
Prunes and prune juice can be enjoyed as part of a varied and balanced diet and a healthy lifestyle. For detailed information on the nutrition content of prunes and prune juice please visit our products page.