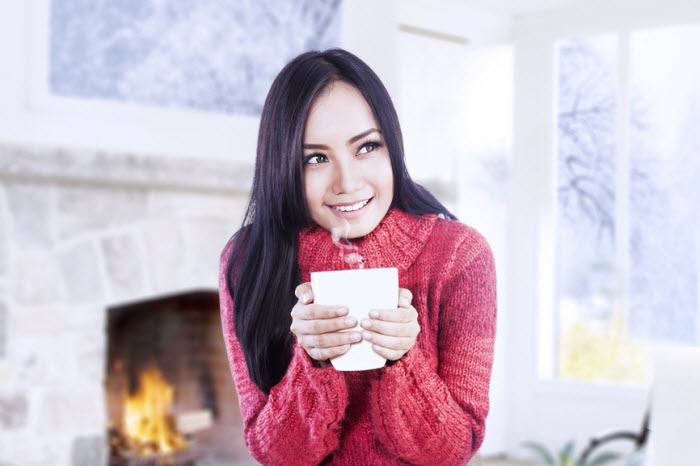 The key to keeping well in winter? Keeping warm!
Being cold can have a negative impact on health, causing colds and flus and even things like heart problems and depression; that's according to Live Well, healthy living advice from the NHS. So read on, for our top four keeping toasty tips.
A study by the Yale School of Medicine found that wrapping up warm, snuggling that nose into a cosy scarf, may help to keep colds at bay. That's because the common cold virus is able to multiply more readily when temperatures drop. Professor Akiko Iwasaki says, "If you can prevent the airway temperature from getting lower, it's probably a good thing." What a fabulous excuse for stocking up on a chic scarf or two!
Drawing the curtains after nightfall, keeping drafts to a minimum by closing internal doors, using hot water bottles to air your bed... Simple, old-fashioned and cost-effective tips for a cosy home. Try to keep active, even when you're planning to stay in the house. By moving around and dressing in cosy layers, you can help to stop your body's core temperature from plummeting.
Choosing hearty, nourishing and warming dishes – like soups and stews – can help to stop the body from feeling chilly. Choose ingredients that punch above their weight when it comes to nutrition. Prunes, for example are a source of vitamin B6 and copper which support a healthy immune system. Oats are rich in fibre and release energy slowly. Combine the two – with water or milk - to make a deliciously fruity and satisfying porridge that the whole family will enjoy. An excellent way to kick-start the day, no matter how wintry the morning.
Hot drinks - enjoyed regularly throughout the day - have an important role to play, too, in keeping warm. Research at the Common Cold Centre, at Cardiff University, studied the effect of hot drinks on colds. Professor Ron Eccles found that, "Both drinks were beneficial, but the hot drink was much more beneficial." Why not try adding mulled wine spices to prune juice before gently warming it? Delicious!