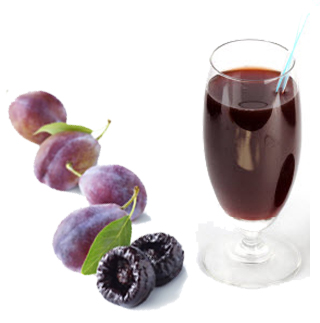 what you should know about prune juice


Health Facts: Prune Juice

Learn about prune juice and your health. Simply click on one of the tabs below to reveal the facts about Sunsweet prune juice...
Prune Juice & heart Health
Did you know that prune juice is:
A source of potassium, which supports normal blood pressure and helps your muscles work normally.
naturally fat free.
naturally saturated fat free. Reducing consumption of saturated fat helps maintain normal blood cholesterol levels.
naturally salt-free. Reducing intake of sodium (salt) helps maintain normal blood pressure.
a source of fibre.
Prune Juice: Nervous System
Prunes and prune juice can be enjoyed as part of a varied and balanced diet and a healthy lifestyle. For detailed information on the nutrition content of prunes and prune juice please visit our products page.