What sets us apart
Our location
Selecting farmland abundant in rich soil and bathed in a climate of rain-free summers and cool, not freezing winters is key to producing our delicious prunes.  There are only a handful of places like that on earth and the birthplace of the Sunsweet prune, the San Joaquin Valley, is one of the best.

Our farmer-growers know good farmland and only select these exclusive perfect growing conditions for Sunsweet prunes.

Our modern methods of growing, harvesting, drying and pitting
We're passionate about prunes, we have an award-winning commitment to quality and customer service and have invested millions of dollars in improving the way we do things - from tunnel drying, to quality testing, to pit removal.  
And the good news for you? 
All of these measures help Sunsweet to grow prunes that are deliciously plump, succulent and tasty for you to enjoy!
When the moment comes, we act quickly to remove the tree-ripened fruit, getting it to one of ten nearby locations for immediate dehydration. This minimises transportation time and maximises the fruit's freshness. When plums are dried into prunes, the dehydration concentrates their flavour. The prune becomes about one third of its original size but retains its nutritional value. The prunes can then be stored until selection for packing.  Prior to pitting and packing the prunes are given a rejuvenating steam bath to make them soft and moist. Our processing methods ensure a uniform taste and texture.
Taste is in the Shape
It's easy to tell the difference between Sunsweet Amaz!n prunes and ordinary prunes.  That's because we've been perfecting prunes at Sunsweet for over 100 years.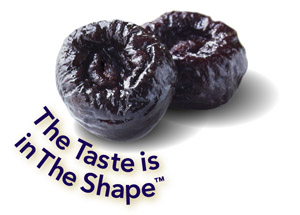 The way that Sunsweet prunes are pitted is unique; no other prunes in the world are pitted in the same way.  Sunsweet's unique pitting process – the "Smart Pitter" - lifts each prune, gently pushes out the pit and reseals the skin, preventing the fruit from drying out and hardening. The whole process preserves the tastiest part of the prune near the pit, so you get significantly more sweet, nutritious flavour.  You also get prunes that are consistently moist, plump and round instead of flat and damaged.
 
When it comes to the best tasting prunes anywhere, Sunsweet knows the Taste is in The Shape. 
Green efforts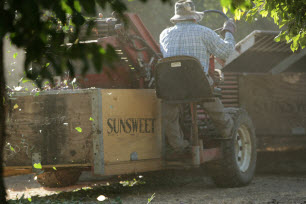 Being farmers we have strong ties to our land and community, so it's natural for us to be committed to the preservation of nature and lead the way in green innovation.
For starters we have approximately twenty-four thousand acres of trees out in California, all helping to absorb CO2!
Additionally, we help eliminate more than 30 tons of greenhouse gases every year by using co-generated steam power.  This is equivalent to the annual energy usage of nearly 10,000 Californian households.
We use energy-efficient lighting and steam power throughout the Sunsweet facilities saving over one million kWh of energy annually.
100% of prune by-product is composted or used for livestock feed.  One can only guess as to how much energy is required to produce feed for livestock, so this process is doubly environmentally beneficial.
Sunsweet returns 100% of the water it uses back to the Feather River, which is a real reflection of how clean our prune processing plant is.  The Feather River, a principal tributary of the Sacramento River, in the Sacramento Valley of Northern California, supports a rich biodiversity of native flora and fauna and we are proud to be contributing to this.
We are constantly striving to ensure many of our consumer retail packs are 100% recyclable.
Every year we recycle as much plastic, cardboard and metal as is possible.  In 2013, Sunsweet recycled:
over 100 tons of plastic,
over 20 tons of metal
almost 1000 tons of cardboard.
We are always looking for ways to be even more environmentally friendly and are striving for 100% utilisation of all waste.  Over six million pounds of prune pits are used for waste-burning electrical generation.