Cooking with prunes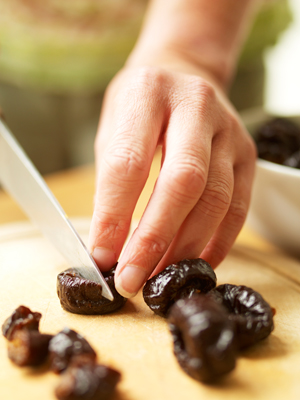 When it comes to stocking up on convenient and natural products, Sunsweet prunes really do deserve a starring role on your shopping list.
Prunes are surprisingly versatile; they can be used to add a nutritious boost to a variety of family meals. Prunes are a delicious addition to a range of dishes, both sweet and savoury. Their flavour can add a depth and richness to comfort foods, like tempting mousses and slow-cooked stews. But, perhaps a little more unexpectedly, prunes can also add a fresh and fruity note to salads and smoothies and even sushi.
So whether you're looking for a super-quick snack, an elaborate feast, or something in-between, prunes are an excellent starting point.
There's nothing quicker than grabbing a handful of prunes to munch on or pureeing the fruit and spreading it on warm toast makes for a super-speedy and satisfying supper.
Whizzing together bananas, chocolate milk and prunes makes a fast and fabulous pud!
When you have a little more time available, to get really creative in the kitchen, the fruit can be used to rustle up recipes from sorbets to stir fries.
Sunsweet prunes are super-sweet with a delicious fruitiness that enhances many other flavours.
They are a classic complement to a range of meat dishes – delicious with pork, perfect with game – adding texture, moistness and taste.  Prunes can even be used to replace the sugar and fats in your family's favourite baked treats.
Tests by the California Prune Board – that swapped refined sugar for prune puree in a range of recipes – reduced the overall sugar content by up to 35%.
Prune puree can be used as a replacement for butter, too. The fruit – with its caramelized flavour and overtones of vanilla - lends itself particularly well to chocolate recipes. Just swap the butter for prune puree - weight for weight - and enjoy!
There are lots of ways to include delicious and nutritious Sunsweet prunes - and their juice - in your everyday diet. So why not keep a pack or two handy, in the store cupboard?