Feel Good Guide
We're being told to cut down on sugar - but where do we start? These days it can be hard to maintain a healthy, balanced diet when we're juggling daily commitments. And knowing what foods to consumer more of, and what to leave on the shop shelf can be a challenge.

Whether you're deciding for yourself or your family what foods to eat, or just looking to improve your overall health, our guide can help you get started on your journey towards less sugar!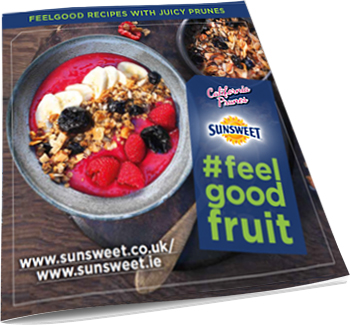 In our Free Feel Good guide, we'll give you:

Tips & Info on Sugar Reduction
How Prunes can Help!
Sugar-friendly, Delicious Recipes to get you Started.
Top Questions We're Asked about Prunes.
Yummy, healthy recipes and nifty tips on having less sugar in your diet - what more can your tummy ask for?

Download our Free Guide Now!

Note: There is no requirement to register for this free PDF.
Prunes and prune juice can be enjoyed as part of a varied and balanced diet and a healthy lifestyle. For detailed information on the nutrition content of prunes and prune juice please visit our products page.