Sweet Potato Ragout with Prunes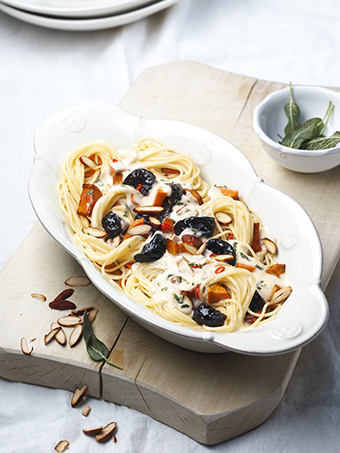 Ingredients
300 g sweet potatoes
2 onions
½ bunch of sage
5 parsley sprigs
2 red chilli peppers
50 g almonds, sliced
350 g Capellini (angel hair pasta (thinner) OR vermicelli (thicker) )
3 tbsp. olive oil
200 ml vegetable stock
250 g ricotta cheese
150 g SUNSWEET prunes
Nutmeg
3 tbsp. lime juice
Salt, pepper
Instructions
Peel sweet potatoes and cut into 1 cm cubes. Peel and dice onions. Finely chop sage and parsley. Cut chilli into rings. Roast almonds in a pan without oil. Cook the pasta according to package directions.
Heat oil in a pan. Add the potato cubes and sauté over medium heat for about 5-10 minutes. Add onions and herbs and sauté for 2 more minutes. Deglaze with vegetable stock. Add ricotta and prunes and simmer 1 minute longer. Season with salt, pepper, and nutmeg.
Add pasta and lime juice. Serve sprinkled with almonds.
Tip: Sauté sage leaves in a little bit of oil until crispy and serve with the pasta.
Recipe Categories
LP Bone Health, Mains,
Recipe Tags
Vegetarian/Meatless, Pasta,
Other Recipes you might like...