California Potato Salad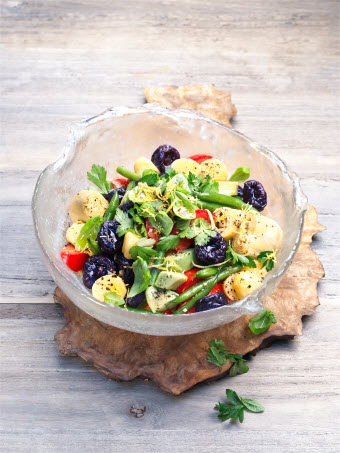 Ingredients
500 g baby potatoes
200 ml vegetable stock
250 g green beans
1 jar/can (420 g) artichoke hearts
2 cloves of garlic
4 tablespoons of olive oil
Juice from 1 organic lemon
Freshly milled pepper
150 g
Sunsweet Prunes
4 tomatoes
1 avocado
A few leaves of herbs (eg. basil or coriander)
Grated lemon for garnishing
Salt
Instructions
Wash the potatoes thoroughly and boil them with their skins in salt water for approx. 18-20 minutes. Then strain them, peel them and cut them into halves. Bring the 150 ml vegetable stock to the boil and pour it over the potatoes. Let them soak for 20 minutes.
Rinse the green beans, let them simmer in salt water for 8-10 minutes. Then strain them and douse with cold water. Let the beans drain.
Let the artichoke hearts drain well. Peel and dice the garlic. Heat 1 teaspoon of olive oil and braise the garlic in the hot oil. Pour in the lemon juice and the remaining vegetable stock. Season with salt and pepper. Stir in the remaining olive oil. Put the artichoke hearts and prunes in a bowl and sprinkle the vinaigrette over them. Let them soak for 15 minutes.
Rinse the tomatoes and cut them into rough pieces. Cut the avocado in half, remove the core and peel the two halves. Cut the avocados into pieces.
If necessary, drain the potatoes. Arrange the prepared ingredients together and serve them garnished with leaves of herbs and grated lemon.
Recipe Categories
LP Gluten Free, Sides and Salads,
Recipe Tags
Vegetarian/Meatless, Gluten Free,
Other Recipes you might like...