Homemade Lemon Poppy Seed Cake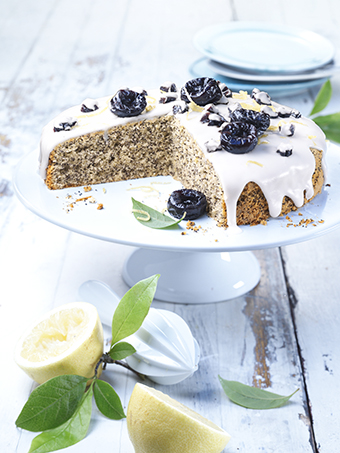 Ingredients
150 g butter
140 g sugar
4 eggs
3 tbsp. lemon zest
6-7 tbsp. lemon juice
Salt
1 tbsp. baking powder
200 g gluten-free flour
60 g almonds, ground
20 g poppy seeds, ground
250 g confectioner's sugar
80 g SUNSWEET prunes

Instructions
Beat butter and sugar until fluffy. Gradually add eggs, and continue beating until eggs are completely absorbed by the butter. Add lemon zest, 3 tablespoons juice, and salt. Stir in baking powder, flour and almonds. Add poppy seeds and mix everything together.
Line a springform baking tin with baking paper and pour in the batter. Place in the preheated oven and bake at 170° C (convection oven 150° C) for about 35 minutes.
Meanwhile, for the icing, mix confectioner's sugar with remaining lemon juice and chopped prunes.
Allow cake to cool and then pour plum icing over the cake.
Recipe Categories
Desserts and Sweet Treats, LP Gluten Free,
Recipe Tags
["Gluten Free","Under 500 calories"]
9, 26,
Other Recipes you might like...