Sweet and scrumptious with delicious accents of warming ginger and zingy lime, the whole family are sure to love our Pumpkin Soup with Prunes. Rustle up a pot before heading out for an afternoon stroll. You'll return to a home filled with the comforting aroma of Autumn. Hearty, tasty and full of healthy vegetables and fruit, serve this soup with our gluten free focaccia. It's what Autumn is all about. This soup keeps well, too, so make plenty!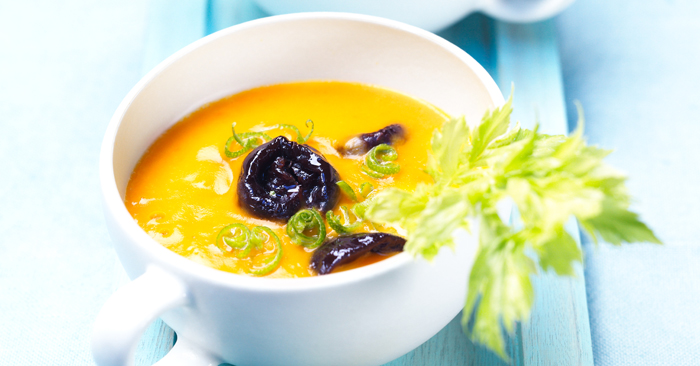 Ingredients
300 g pumpkin

200 g carrots

1 walnut-sized piece of ginger

1 onion

2 tablespoons of vegetable oil

800 ml vegetable stock

Salt and pepper

Cayenne pepper

1 organic lime

120 g Sunsweet prunes

100 ml whipping cream

4 small stems of celery with green leaves
Instructions
Rinse and dice pumpkin. Peel, clean and rinse the carrots cut them into small pieces. Peel and dice the ginger. Peel and dice the onion.
Heat the vegetable oil in a large pan. Briefly braise the onion, pumpkin, carrots and ginger in the hot oil. Pour in the vegetable stock and boil the vegetables with the lid on the pan for approx. 25-30 minutes until they are soft. Puree everything in a food processor. Season with salt, pepper and cayenne pepper.
Rinse the lime and strip its peel off with a zester. Squeeze out the lime juice. Add the lime juice, lime peel and prunes (halved if you want) to the soup and briefly heat it again. Whisk the cream until it is semi thick.
Serve the soup in cups or glasses with a celery stem and a spot of cream.
Other recipes you might be interested in...