When it comes to summer BBQ dishes, it can be nice to ring the changes. Our Chorizo, Prawn and Prune skewers are really easy to make but will add a touch of sophistication to your table. The skewers are perfect as an appetiser but – with a selection of salads – they're substantial enough to serve as a main, too!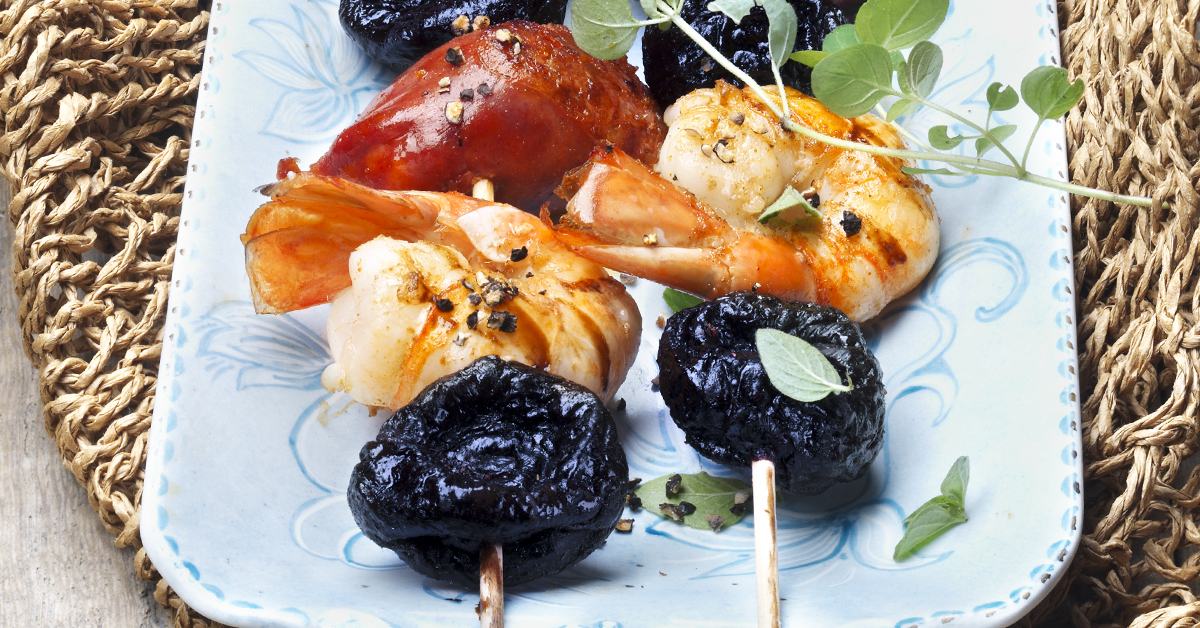 Ingredients
1 sweet potato (approx. 250 g)

Salt

175 g cream cheese

1 tbsp. Tahini

2-3 tbsp. lemon juice

¼ - ½ tsp. cayenne pepper

8 big prawns (for example tiger prawns, approx. 200 g)

2 tbsp. olive oil

100 g soft chorizo (Spanish sausage with peppers)

12 g Sunsweet prunes

Additional:
4 wooden skewers

Instructions
Peel and cube the sweet potato for the dip. Boil in 100 ml water and a pinch of salt for 10 minutes until soft. Puree the sweet potato pieces in the water it is boiled in. Let puree cool.
lix sweet potato puree with cream cheese, tahini and 2 tbsp. lemon juice. Season the dip with salt, cayenne and lemon juice if needed. Refrigerate.
Put the wooden skewers in cold water for 30 minutes to prevent them from burning on the grill. Peel prawns except for the tail. Cut lengthways and remove the intestines. Wash prawns, blot dry and coat in olive oil. Cut chorizo into 8 pieces. Thread 2 prawns, chorizo pieces and 3 prunes alternately onto each skewer. Grill on a hot BBQ for 4-6 minutes. Serve with sweet potato dip.
Other recipes you might be interested in...