Keep things simple this Christmas and make your entertaining fuss-free so that you can focus on the important things; like having fun and spending quality time with your family and friends! Our Linzer Prune Cookies are super-festive whether you decide to serve them with mulled wine, hot chocolate or a glass of milk. And the enticing aroma of freshly-baked cookies couldn't be more welcoming for guests!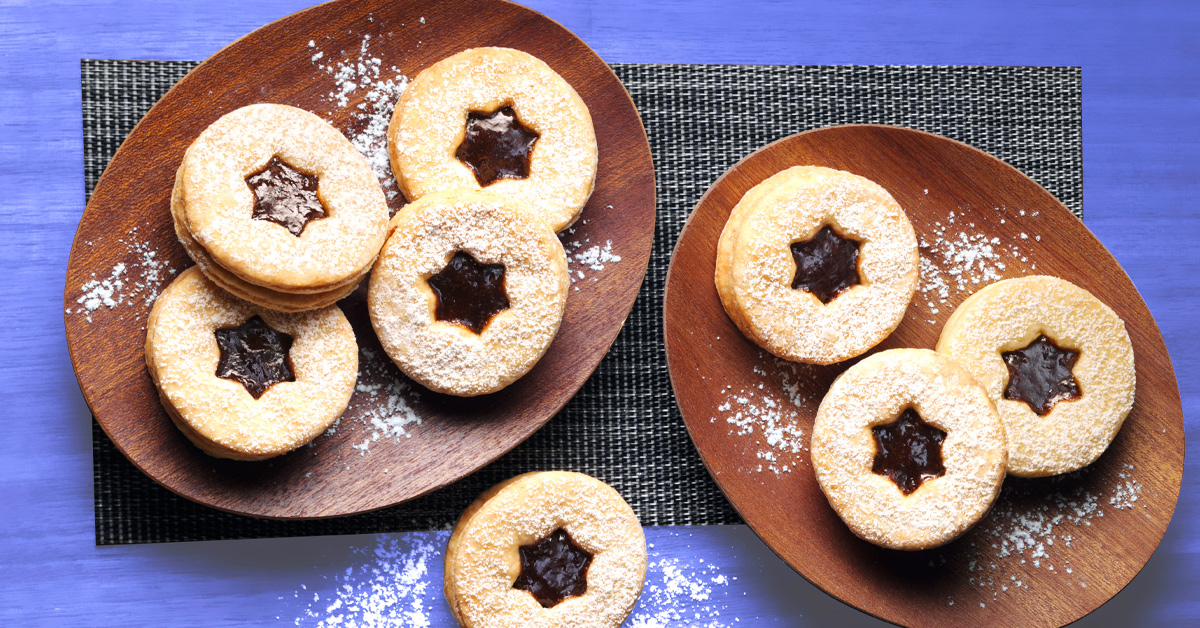 Ingredients
80 g Sunsweet prunes

3 tablespoons water

280-300 g flour

1 tablespoon baking powder

2 tablespoons ginger spice

50 g brown sugar

100 g butter, softened

1 medium egg

For the filling:

80 g quince or red currant jam

2 tablespoons water

100 g Sunsweet prunes

To Serve:

Some icing sugar for garnish
Instructions
Preheat oven to 180 °C and puree prunes for the cookie dough with water.
Mix baking powder with flour, ginger spice and sugar. Whisk in butter cubes, egg and plum puree with a hand mixer. Use kneader of hand mixer to knit the dough until smooth. Wrap the dough in foil and place for 30 min in the refrigerator.
Boil water for 2 minutes with the jam. Add the prunes and puree and mix well.
Roll out the dough on floured surface, until 2-3 mm thick. Cut out 36 round cookies (approx. 6cm diameter). Bake half of the cookies for 12 minutes. Cut out little stars (2,5-3cm diameter) from center of the uncooked cookies and bake. Also bake the little stars but take them out a few minutes earlier than the other cookies.
Spread prune filling sparingly but evenly on the round cookies, then place a dab of the filling in the centre and place the cookies with star cut out on it. Press gently. Sift icing sugar over cookies.
Other recipes you might be interested in...