Could this be the year that you make Christmas your own and make lots of magical family memories along the way? Try to remember that there's no such thing as an identikit, one-size-fits-all Christmas. What's perfect for you and your family, is perfect for you and your family. Forget about trying to recreate the fashionable festive tableaux that are splashed across social media. Forget about blowing your budget on overly-commercial gifts with little meaning that will be discarded by Boxing Day. Forget everything you've ever told yourself about not being creative and get making!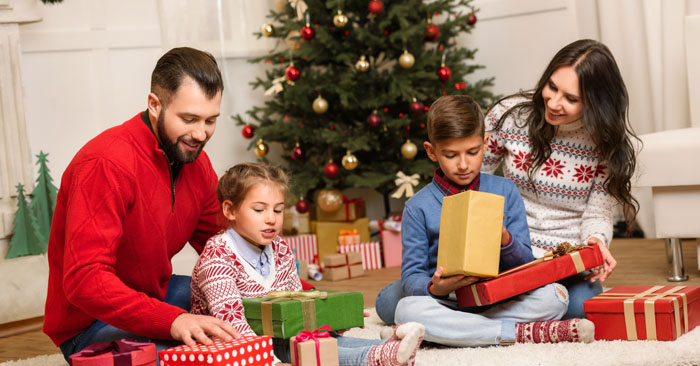 The real meaning of Christmas
There's something about a home-made gift, whatever the time of year, but particularly at Christmas. When all of our lives are so busy, a unique and personal gift that's taken time and effort to make feels heartfelt. And isn't that what Christmas is all about? So, set aside a weekend in December, decide who you'll be making gifts for, search the internet for inspiration, get the whole family involved and have fun! Quick tips for fabulous home-made gifts.
Foodie treats are always a popular choice, at Christmastime. Make sure that you check the recipe, first, but many gifts can be enjoyed by the recipient long into January and beyond. For example, our Spicy Prune BBQ Sauce keeps for up to four weeks. And many preserves will last for up to a year. It'd be a nice touch to add an "enjoy before date" to your handwritten labels.
Take a look at our recipe pages for some scrummy sweet ideas. Who wouldn't love a Dark Chocolate Bar with Prunes and Almonds or Chocolate Covered Nut-Stuffed Prunes? Pack the edible goodies into pretty gift bags or boxes and don't forget the gift-tag! Personalised, hand-made labels make a lovely finishing touch.
Pinecones are the ultimate starting point for a whole host of Christmas crafting projects. Add googly eyes, brown felt triangles for ears and mini red pompoms to create – you guessed it – super-cute Rudolphs. Pop cones into mini plant-pots – fixing them securely with modelling clay – to create tiny trees, all ready for decorating. The possibilities are endless!
Maybe you have somebody on your list who is either short on time (a new mum, perhaps) or doesn't get much company (an elderly neighbour, perhaps, who lives alone). A voucher for a home-made meal – to be redeemed in the New Year – can make a thoughtful gift. You could use our recipe pages as inspiration, to draw up a menu for the lucky recipient.
Enjoy your fabulously crafty weekend. But don't forget to make an extra batch or two. It's the chef's privilege, after all.
With very best wishes – from all of us - for a very healthy, happy and home-made Christmas!
Please Note: Prunes are good for digestion and help keep you regular, when 100g are eaten as part of a varied and balanced diet and an active lifestyle. Always consult a GP if you have any health concerns.