Spicy Prune Barbeque Sauce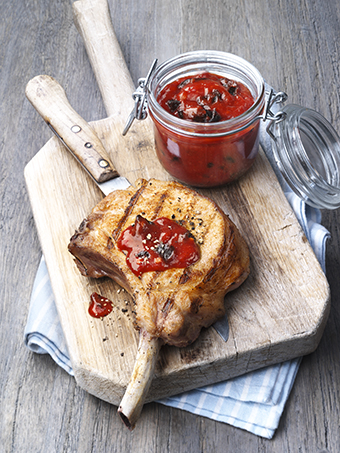 Ingredients
150 g SUNSWEET prunes
1 onion
2 garlic gloves
1 tbsp. oil
2 tbsp. tomato paste
500 ml ketchup
3 tbsp. whiskey
5 tbsp. Worcester sauce
2 tbsp. apple cider vinegar
3 tbsp. brown sugar
1 tsp. salt
½ - 1 tsp. chilli powder
1 tsp. smoked paprika powder
Black pepper
Instructions
Cut prunes in small pieces. Peel and dice onion. Finely chop garlic. Heat oil in a pan and steam onion on medium heat until glassy. Add garlic, prunes and tomato paste. Sauté lightly. Add ketchup, whiskey, Worcester sauce and apple cider vinegar. Stir in sugar, salt, chili powder, smoked paprika powder and pepper.
Bring sauce to a boil and let it simmer for 15 minutes. Stirring occasionally, pour the hot sauce in clean mason jars and seal. The sauce is excellently suitable for spare ribs, steaks, chops or chicken wings. The sauce can be stored for 4 weeks when kept chilled.
*Recipe produces roughly 625ml of sauce.
Recipe Categories
Sauces and Relishes,
Recipe Tags
Under 500 calories,
Other Recipes you might like...