Chocolate Bar with Prunes Almonds and Dark Chocolate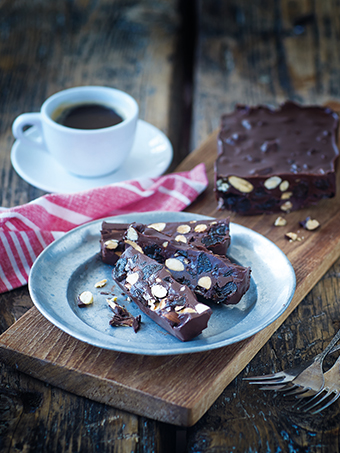 Ingredients
300 g dark chocolate 70 %
75 g butter
100 g almonds with shell
200 g SUNSWEET prunes
Instructions
1. Melt chocolate and butter over hot boiling water.
2. Roast the almonds in a preheated oven at 180° C for about 15 minutes until golden. Leave them to cool.
3. Chop the prunes coarsely and mix them with chocolate and almonds.
4. Put the chocolate mass into a loaf tin or similar lined with baking paper or clingfilm.
5. Cool for at least 4 hours.
6. Cut the confectionery into bite-size pieces and serve with coffee or liqueur.
Tip: Try adding a little liquorice powder or dry chilli to the chocolate, or marinate the prunes in liqueur or other spirit for about 30 minutes.
Recipe Categories
Desserts and Sweet Treats,
Recipe Tags
Under 500 calories,
Other Recipes you might like...