You can never have too many soup recipes in your repertoire. And our Exotic Lentil Soup with Prunes is a wonderful addition, just perfect for the autumn. Colourful to look at and warming to sip – it's a hug in a bowl! With crusty bread, it makes a satisfying supper. And, popped into a flask, it makes a healthy, on-the-go meal.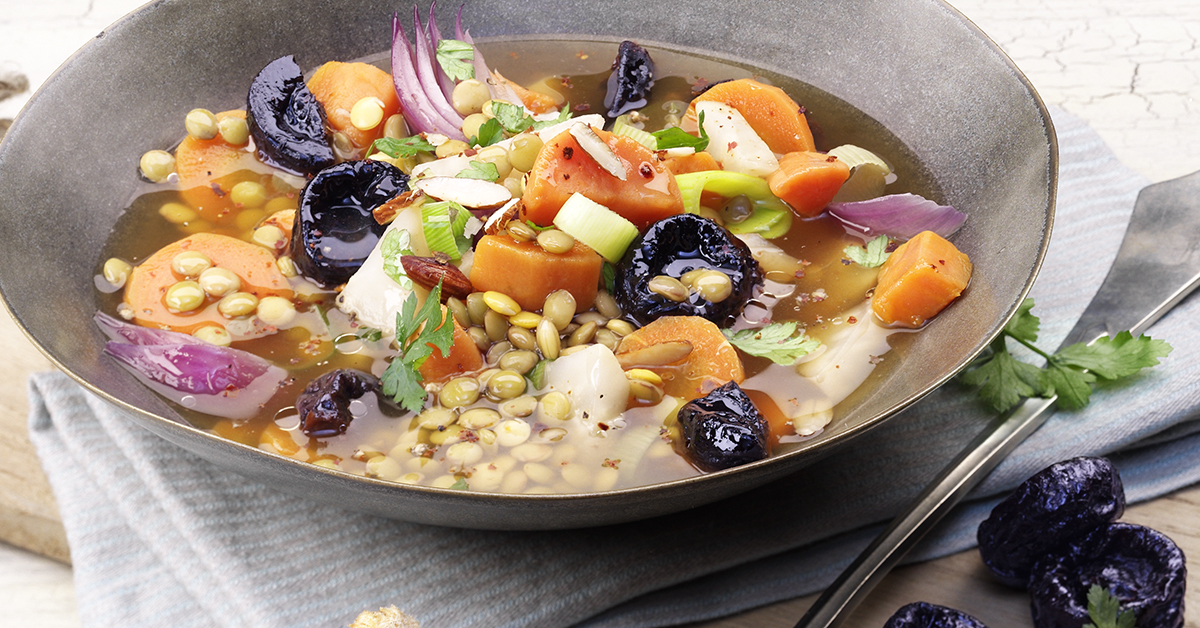 Ingredients
3 carrots

200 g celeriac

2 red onions

1 leek

1 sweet potato (approx. 350 g)

1 bunch flat parsley

2 tbsp. oil

300 ml chicken stock (or vegetable stock)

300 g pre-soaked and cooked lentils

300 g Sunsweet prunes

4 tbsp. apple vinegar

Salt, pepper
Instructions
Peel carrots and slice. Dice celeriac, peel onions and cut into strips. Clean leek, cut into slices and wash. Peel potato and cut into pieces. Pull parsley leaves from the stems and chop coarsely.
Heat oil in a pot. Add potato, onions, carrots and celeriac and steam for 5 minutes at medium heat. Add leek and steam for 2 more minutes. Deglaze with stock. Add lentils and simmer for 20 minutes at a medium heat. Add prunes and parsley.
Season to taste with apple vinegar, salt and pepper.
Tip: Roast some almond slivers and add as topping to the soup. Serve with toasted rye bread.
Other recipes you might be interested in...