When it comes to entertaining, it's handy to have a trick or two up your sleeve. Our Beetroot Carpaccio with Fried Bacon Prunes is more of an assembly job than a recipe – but it couldn't look prettier and more impressive on the plate! Make sure you slice the beetroot finely and cook the bacon till it has a bit of crunch. The contrasting textures will combine to create a super-tasty starter.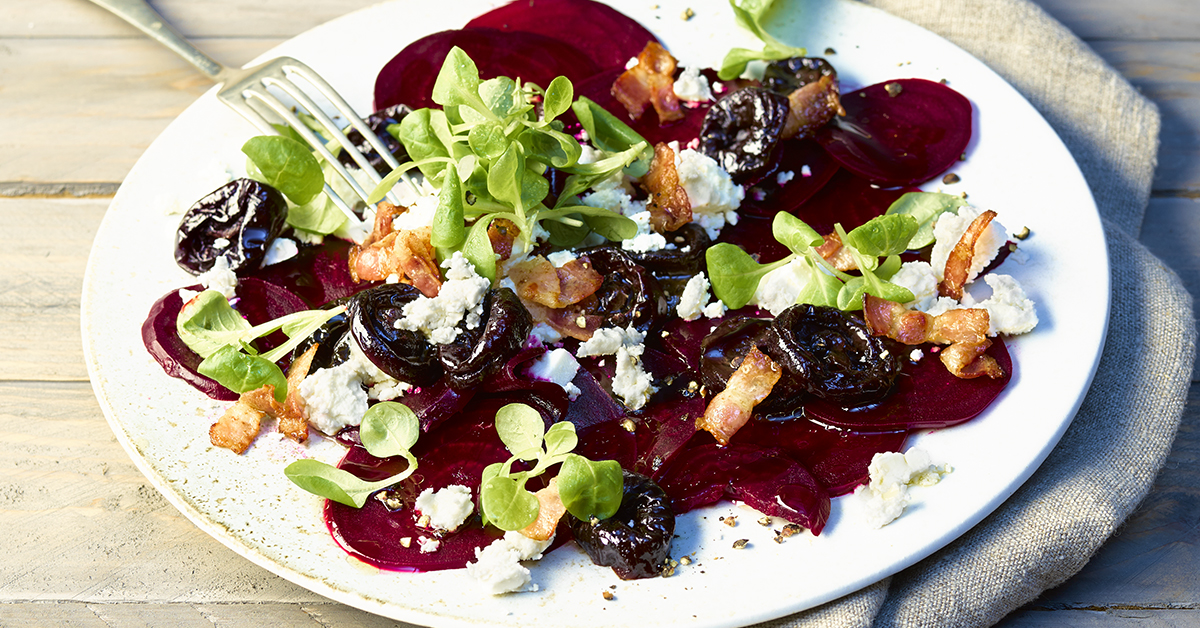 Ingredients
125 g kitchen-ready small-leaved lamb's lettuce
500 g precooked skinned beetroot
Freshly ground black pepper
150 g Feta
7-8 slices of bacon (125 g) (alternative: Pancetta)
100 g Sunsweet prunes
50-60 ml lemon juice
Instructions
Wash lamb's lettuce, thoroughly drip dry. Cut beetroot into wafer-thin slices, place on 4 large plates and sprinkle with a little pepper. Put lamb's lettuce around the edges of beetroot. Crumble Feta over this.
Cut bacon into 2 cm wide pieces. Halve prunes. Fry bacon in a coated pan at medium heat without adding any fat until light brown and slightly crunchy. Remove pan from stove. Add prunes, briefly stir fry and heat. Immediately spread everything with the exuded fat and arrange widely on the beetroot and lamb's lettuce. Sprinkle with lemon juice and immediately serve.
Tip: Ciabatta or wheat bread goes well with this.
Refining: additionally sprinkle salad with Crema di Balsamico balsamic vinegar, if necessary also instead of lemon juice.
Other recipes you might be interested in...