You can never have too many chicken dish recipes in your family's repertoire. So why not make friends with our Chicken filled with Prunes? Stylish enough to be a dinner party main and simple enough to be a mid-week meal, this recipe is super-versatile. Sage, prunes and gouda cheese add a tasty twist. And a side of your family's favourite veggies – we suggest carrots and kohlrabi - make for a scrummy, complete meal.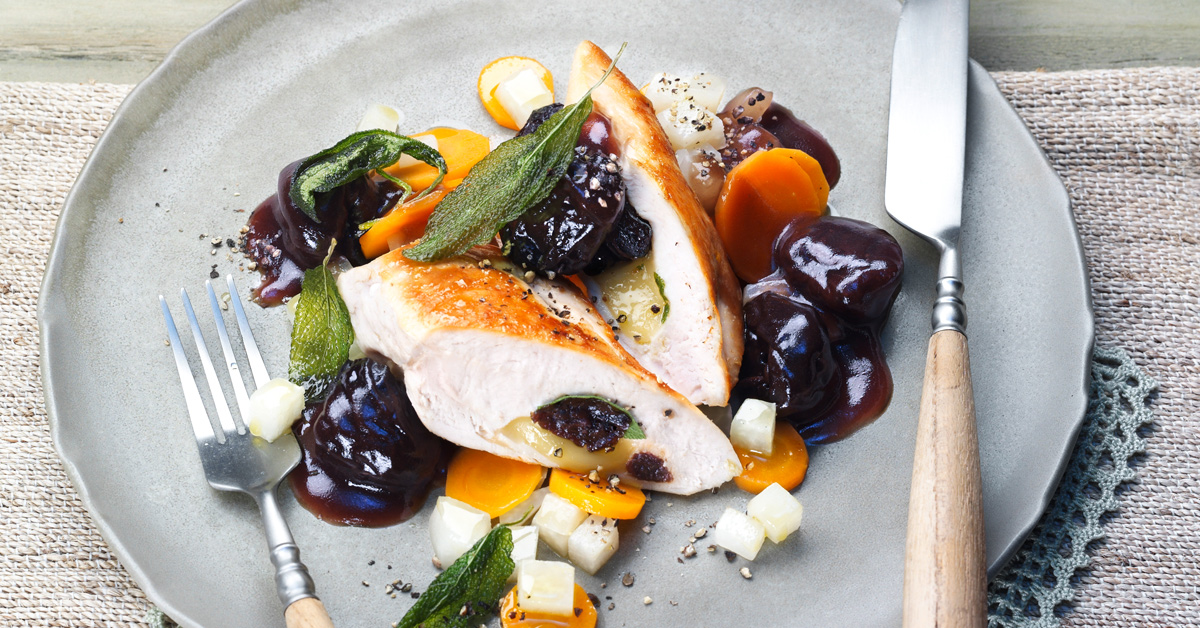 Ingredients
4 chicken breast fillets (approx. 250 g)

Salt and pepper

4 stems of sage

80 g of medium-aged gouda cheese

150 g Sunsweet prunes

Small wooden skewers

2 tablespoons of vegetable oil

200 ml chicken stock

400 g carrots

1 large kohlrabi

30 g Butter
Instructions
Rinse chicken breast fillets and blot them dry. Cut a slit lengthways in each chicken breast. Season the meat with salt and pepper. Place 2 sage leaves in each of the slits. Cut the gouda cheese into 4 thin pieces. Place a piece of gouda cheese and 2 prunes in each slit. Use the small wooden skewers to pin the slits closed.
Heat the vegetable oil and fry the chicken breast fillets until they are brown on all sides. Pour chicken stock onto the fried meat. Cover the chicken breast fillets with a lid and braise them for approx. 18-20 minutes. In the last few minutes put the remaining prunes and the rest of the sage leaves in the stock and braise them with the other ingredients. Season the meat stock with salt and pepper.
Peel, clean and rinse the carrots, and cut them into slices. Peel the kohlrabi and finely dice it. Simmer the carrots and kohlrabi in salt water for approx. 10-12 minutes. Strain the vegetables. Melt the butter in the pan and stir the vegetables in it. Season with salt and pepper.
Cut the chicken breast fillets and arrange them together with the vegetable stock, prunes and vegetables.
Other recipes you might be interested in...