Coming up with ideas for mid-week meals can be tricky and that's where dishes like our Fruity Pilaf with Prunes and Chicken Skewers really come into their own. Quick to make, pretty to look at and super tasty, it's sure to be loved by the whole family!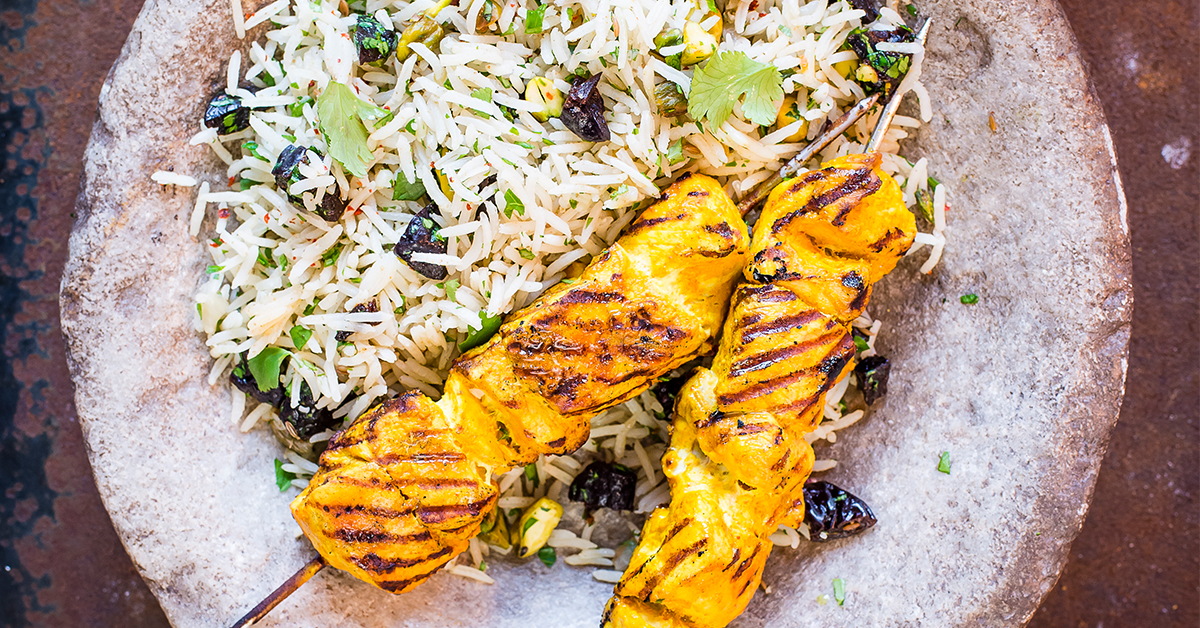 Ingredients
Ingredients (for 4):
For the Chicken Skewers:
You will need 4 metal skewers, at least 8 inches long

2 large free-range chicken breasts, skinned and cut into bite-sized pieces

100ml natural yoghurt

1 tbsp turmeric

½ tsp chilli powder

Juice of 1 lemon

For the Rice Pilaf:

Large knob butter

1 medium onion, peeled, trimmed and finely chopped

1 tsp ground coriander

1 tsp ground cumin

1 tsp cumin seeds

120g fast cook brown basmati rice

500ml warmed chicken stock

6 ready-to-eat Prunes, roughly chopped

Large handful shelled pistachio nuts, roughly chopped

2 tbsp fresh coriander, finely chopped

2 tbsp fresh parsley, finely chopped

Salt & pepper, to taste

Instructions
First prepare the chicken skewers. Mix together the yoghurt, turmeric, chilli powder and lemon juice.
Skewer ¼ of the chicken pieces onto each skewer, then place in a wide dish and cover with the marinade. Leave to one side while you prepare the rice.
In a large heavy-based pan, melt the butter over the low heat, add the onion, stir well, and leave to sautee until soft – about 5 minutes. Add the ground coriander, ground cumin and cumin seeds, and stir well for a moment to avoid sticking.
Add the rice, mix thoroughly with the onion mixture, and leave for half a minute before adding the stock.
Stir well, bring to the boil, then reduce the heat to low and cover with a tight-fitting lid (otherwise place a sheet of foil over the top of the pot and secure the lid down on this – this will give you a snug-fitting lid).
Leave to cook over the heat for 10 minutes, check to see if it needs more liquid, if it does add water, and then give it a further 5 minutes to sit, covered.
While the rice is cooking, turn your grill up to high, place the chicken skewers underneath, discarding any excess marinade.
Turn the skewers every 2 minutes or so, so that each side of the chicken cubes are evenly cooked through. When cooked, remove from the grill and set to one side.
Remove the lid from the rice, and quickly fluff up the rice with a fork.
Wait a moment for the steam to escape, then add the prunes, pistachio nuts and fresh herbs, and mix through well.
Spoon the rice into a large, wide serving bowl and place the chicken skewers on top. Eat immediately. Serve with a crisp green salad.
Other recipes you might be interested in...