The very best soups fill the house with tempting aromas as they cook: our Spicy Squash Soup with Chorizo is no exception! Ginger, rosemary and smoked paprika combine to tempt the taste-buds. With squash, chorizo and scrummy Sunsweet prunes, this is a hearty and flavourful recipe just perfect for still-chilly February.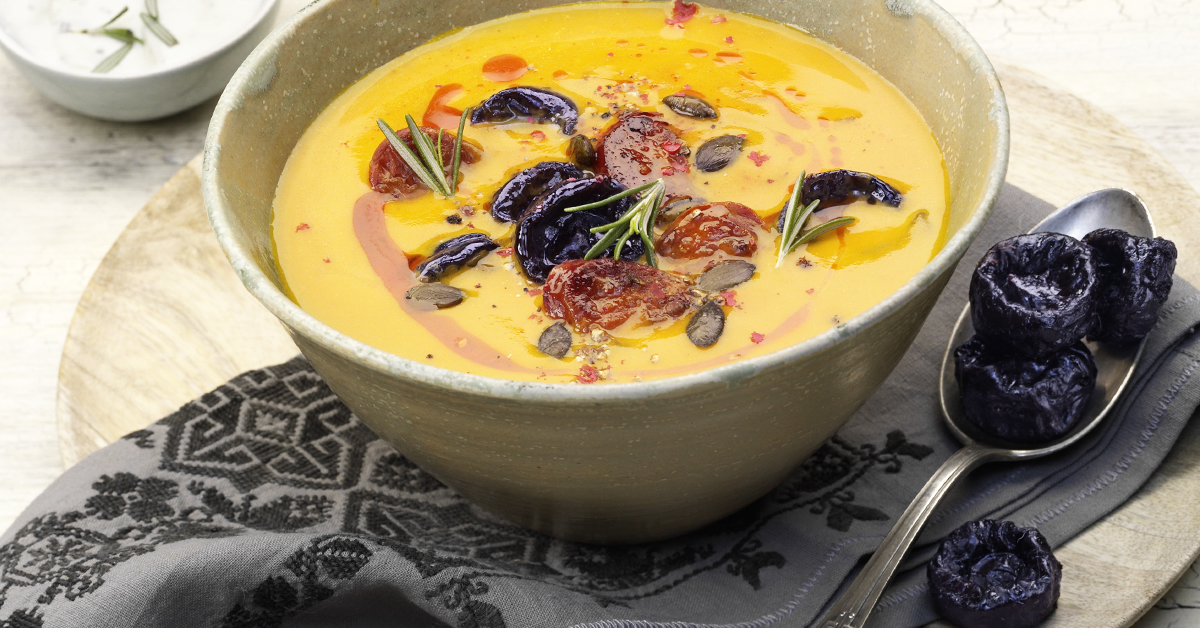 Ingredients
600 g butternut squash

30 g ginger root 2 onions

3 tbsp. oil

2 tbsp. smoked paprika powder

300 ml white wine

400 ml chicken stock

4 chorizo sausages (Spanish paprika sausage)

200 g Sunsweet prunes

30 g pumpkin seeds

2 sprigs of rosemary

3 tbsp. sour cream

Salt, pepper

Instructions
Peel squash and ginger and dice finely. Dice the onions into large pieces. Heat oil in a pot, add squash, onions, paprika powder and ginger and sauté for 5 minutes. Deglaze with white wine and stock and boil at a medium heat for 15 minutes. Cut chorizo sausage into slices. Cut prunes into large pieces. Toast pumpkin seeds in a dry pan.
Grind squash in a blender. Season with salt and pepper to taste, add prunes and keep hot. Fry chorizo slices in a dry pan for 5 minutes on each side at a medium heat. Chop rosemary and sprinkle onto the sausage.
Pour soup into a bowl. Serve with sausage, sour cream and pumpkin seeds.
Tip: Optionally sprinkle some of the chorizo oil from the pan onto the soup.
Other recipes you might be interested in...