Cheese Crostini with Spicy Chutney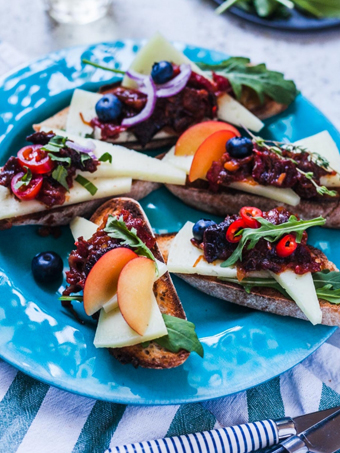 Ingredients
Ingredients for 8 crostini:

150 g SUNSWEET prunes
2 small red onions, cut into half rings
1 tbsp coconut oil
1 tsp salt
1 garlic clove, finely chopped
1 small piece of hot chilli pepper, cut into rings
2 heaped tbsp sugar
100 ml red wine vinegar
1 tin (400 g) of chopped tomatoes
1 tsp ground cardamom
1/2 tsp fresh thyme leaves
1/2 tsp grated zest of 1 organic lemon
150 g Manchego cheese
8 baguette slices

Optional as a garnish:
Lettuce or fruit

Instructions
Pour boiling water over prunes and allow to soak for 10 minutes. Heat coconut oil in a small saucepan, fry the onion with the salt over a medium heat until soft. Add the garlic and chilli pepper and sauté for another minute.
Sprinkle sugar over the onions and allow to caramelise, then deglaze with vinegar. Drain prunes, allow to drip off, cut into strips and add with the chopped tomatoes to the onions in the pan. Stir in the cardamom, thyme leaves and lemon zest.
Simmer the prune and tomato chutney over a low heat for about 15 minutes until the liquid has evaporated and the chutney is nice and thick. Fill the chutney into a clean screw-top jar and allow to cool.
Toast the baguette slices. Cut the cheese into 8 slices and place on the crispy baguette slices. Spread the prune and tomato chutney on top and garnish the crostini with lettuce leaves and pieces of fruit as desired.
Recipe Categories
Canapes and Savoury Snacks, LP Bone Health, Starters and Appetizers,
Recipe Tags
["New Recipe","Vegetarian/Meatless","Under 500 calories"]
12, 27, 5,
Other Recipes you might like...