Stuffed Sweet Potatoes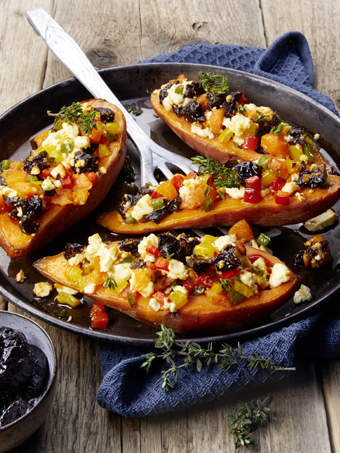 Ingredients
4 sweet potatoes, approx. 250 g each
Salt
150 g SUNSWEET prunes
1/2 of each of a red, yellow and green bell pepper
4 tbsp olive oil
Pepper
200 g feta cheese
Instructions
Cut the sweet potatoes into halves lengthwise and pre-cook in boiling water for 10 minutes. Cut the prunes and peppers into small cubes. Carefully hollow out the sweet potato halves with a teaspoon leaving an edge of about 2 cm. Trim the bottoms of the halves to make them flat so that they don't fall over and place them on a baking tray lined with baking paper.
Roughly chop the scooped out sweet potato mass and fry in 2 tbsp of hot olive oil. Add the prunes and bell peppers, fry for 2-3 minutes stirring and season everything with salt and pepper. Crumble the feta cheese, mix in and spread the mixture over the sweet potato halves. Drizzle with the remaining olive oil and bake in the middle of a preheated oven (electric oven: 200°C/fan: 175°C) for 15-20 minutes.
Recipe Categories
LP Bone Health, LP Gluten Free, Mains,
Recipe Tags
["New Recipe","Vegetarian/Meatless","Gluten Free"]
27, 26, 11,
Other Recipes you might like...