Wholemeal Tramezzini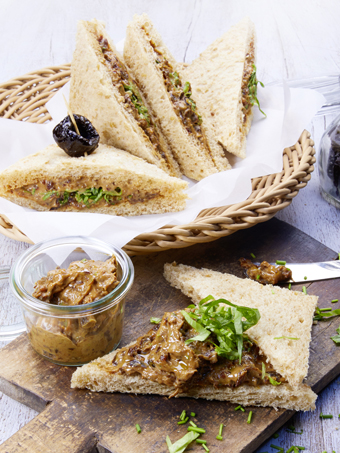 Ingredients
200 g SUNSWEET prunes
175 g double cream cheese
2 tbsp milk
2 tbsp chopped chives
Salt, freshly ground pepper
8 slices of toasted wholemeal sandwich bread
4 leaves of romaine lettuce
Instructions
Roughly chop the prunes and blend to a fine purée with the cream cheese and milk. Mix in the chopped chives and season with salt and pepper.
Cut the crusts off the toasted sandwich bread and spread the prune mixture thickly and evenly over the slices, leaving about 1 cm free at the edges. Cut the washed and dried lettuce leaves into thin strips and distribute over 4 toast slices. Place the remaining toast slices on the top, press down gently and cut in half diagonally.
Recipe Categories
Breakfast, Canapes and Savoury Snacks, LP Bone Health, Starters and Appetizers,
Recipe Tags
["New Recipe","Vegetarian/Meatless","Under 500 calories"]
4, 12, 27, 5,
Other Recipes you might like...