Stuffed Baked Tomatoes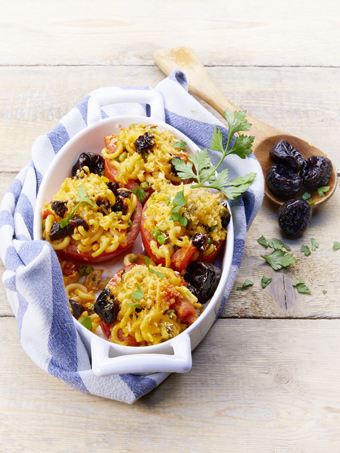 Ingredients
60 g small, short-cut pasta e.g. macaroni
Salt
4 large tomatoes
100 g SUNSWEET prunes
1 onion, diced
2 tbsp olive oil
100 g frozen peas
Freshly ground pepper
80 g grated cheddar cheese
2 tbsp breadcrumbs
Fat to grease the tin
Instructions
Cook the pasta al dente in plenty of boiling salted water, drain well. Cut the tomatoes into halves, spoon out the pulp and keep. Dice the prunes. Sweat the diced onion in hot oil until translucent, add the tomato pulp and prunes and stir over a high heat for 3-5 minutes to reduce the liquid. Stir in the pasta and peas and season everything with salt and pepper.
Place tomato halves in a greased ovenproof dish, distribute the mixture over the halves. Mix the grated cheese with breadcrumbs and scatter over the tomatoes. Bake in the middle of a preheated oven (electric oven: 200°C/fan: 175°C) for approx. 15 minutes.
Recipe Categories
Canapes and Savoury Snacks, LP Bone Health, Mains,
Recipe Tags
["New Recipe","Under 500 calories","Pasta"]
12, 27, 11,
Other Recipes you might like...