Overnight Oats with Prunes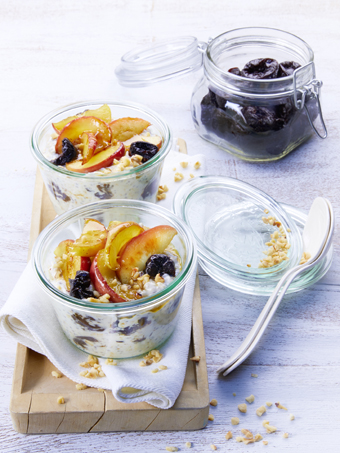 Ingredients
200 g SUNSWEET prunes
2 tbsp chia seeds
500 g full-cream milk yoghurt (3.5% fat)
200 ml full-cream milk (3.5% fat)
5 tbsp maple syrup
160 g rolled oats
2 apples
Some cinnamon
2 tbsp hazelnuts

Also:
4 glasses
Instructions
Roughly chop the prunes and mix them together with the chia seeds, yoghurt, milk, 3 tbsp maple syrup and oats. Fill the mixture into jars.
Cut the apples into quarters, remove the cores and cut into slices and steam them in the remaining maple syrup in a covered pan for about 3-4 minutes. Add cinnamon to taste.
Distribute apples over the prune and oat mixture, sprinkle with hazelnuts and allow to soak in the fridge overnight.
Recipe Categories
Breakfast, Canapes and Savoury Snacks, LP Bone Health,
Recipe Tags
["New Recipe","Vegetarian/Meatless"]
4, 12, 27,
Other Recipes you might like...