Chickpea Purée with Prunes and Vegetable Sticks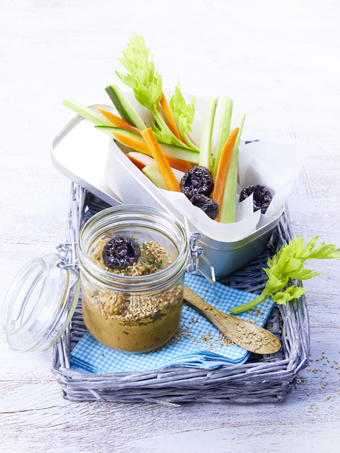 Ingredients
For the purée:
1 jar of chickpeas, drained net weight 220 g
200 g SUNSWEET prunes
250 g yoghurt (3.5% fat)
1 tbsp maple syrup
2 tbsp chopped parsley
Salt, pepper, a little lemon juice

For the vegetable sticks:
4 carrots
1 cucumber
Instructions
Pour chickpeas into a sieve, rinse thoroughly with cold water and drain. Put into a high-sided container with prunes, yoghurt and maple syrup and blend until creamy. Stir in the parsley and add salt, pepper and lemon juice to taste.
Peel the carrots, cut cucumber into 3-4 pieces and then cut the vegetables in-to thick sticks, about 1 cm thick.
Recipe Categories
Canapes and Savoury Snacks, LP Bone Health, LP Gluten Free, Sides and Salads,
Recipe Tags
["New Recipe","Vegetarian/Meatless","Gluten Free","Under 500 calories"]
12, 27, 26, 10,
Other Recipes you might like...