Tomato and Prune Pesto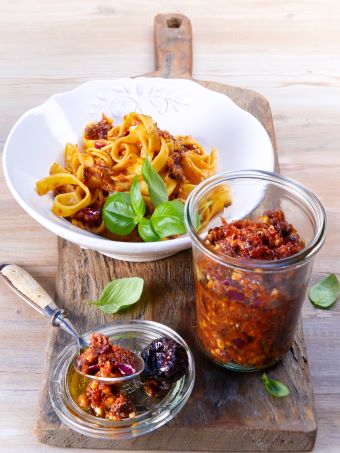 Ingredients
200 g red onion
200 ml olive oil
300 g SUNSWEET prunes
200 g tomatoes preserved in oil
1/2 tsp salt, freshly ground pepper
100 g roasted chopped hazelnuts
100 g grated Parmesan

Also:
3 glasses with lids, 350-400mL each

Instructions
Chop the red onions into small cubes and soak in 1 tbsp olive oil until soft.
Blend the prunes and tomatoes preserved in oil with the remaining olive oil to give a medium-smooth consistency. Stir in salt, pepper, hazelnuts and Parmesan cheese and finally the cooled onions.
Fill into sealable jars and keep in the fridge.
Tip: You could also add freshly chopped garlic and decorate with fresh basil. The pesto tastes particularly good with noodles but is also good in wraps or on slices of toasted bread. You could use almonds or pine nuts instead of hazelnuts. Well-sealed in jars, the pesto will keep for 2-3 weeks.
































Recipe Categories
LP Bone Health, Sauces and Relishes,
Recipe Tags
["New Recipe","Vegetarian/Meatless","Under 500 calories","Pasta"]
27, 13,
Other Recipes you might like...