Almond muffins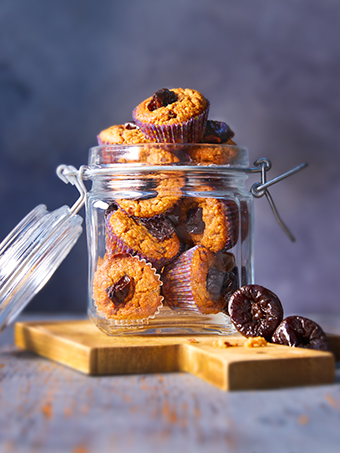 Ingredients
100 g SUNSWEET prunes
40 ml water
100 g ground blanched almonds
1 tbsp cinnamon
1 tsp ground vanilla
1 tsp baking powder
2 eggs (medium)
100 g soft butter
60 g ricotta cheese

24 small paper baking cases
1 muffin baking tray with 24 holes
Instructions
Preheat the oven to 180°C (fan 160°C).
Cut 4 prunes into 6 rough chunks each. Place the 24 chunks on one side. Blend the remaining prunes with 40 ml water in a high container.
Mix the almonds, cinnamon, ground vanilla and baking powder.
Whisk together the eggs, butter and ricotta cheese. Stir in the almond mixture and prune puree and leave to rest for about 15 minutes.
Divide the mixture equally among the 24 paper baking cases and smooth the tops with moistened hands. Place a chunk of prune on top of each muffin. Place the paper cases in the holes of a muffin baking tray.
Bake in the centre of a hot oven for 15-18 minutes, remove and cool on a wire rack.
Recipe Categories
Breakfast, Desserts and Sweet Treats, LP Bone Health,
Recipe Tags
["Vegetarian/Meatless","Under 500 calories"]
4, 9, 27,
Other Recipes you might like...