Energy balls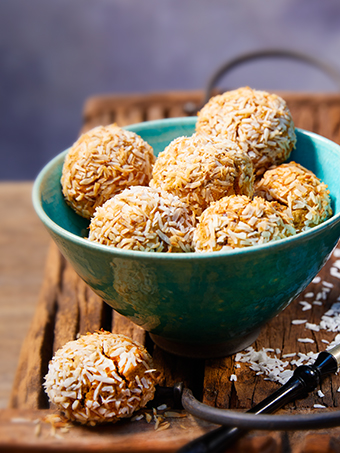 Ingredients
80 g SUNSWEET prunes
30 ml water
2 eggs (medium)
50 g soft butter
50 g low-fat quark or other soft cheese
50 g coconut flour
1 tsp instant coffee
1 tsp baking powder
coconut flakes for rolling
Instructions
Preheat the oven to 180°C (fan 160°C). Line a baking tray with baking paper.
Blend prunes with 30 ml water.
Beat the eggs together with the butter and cheese until creamy.
Mix the coconut flour, instant coffee granules, prune puree and baking powder together and stir into the egg mixture. Leave the dough to rest for about 10 minutes.
With moistened hands, form into 12 small balls. Scatter the coconut flakes on a plate and roll the balls in them until they are completely covered. Bake in the hot oven for about 15-20 minutes.
Recipe Categories
Desserts and Sweet Treats, Easter, LP Bone Health,
Recipe Tags
["Vegetarian/Meatless","Under 500 calories"]
9, 21, 27,
Other Recipes you might like...