Meatballs with yoghurt and paprika dip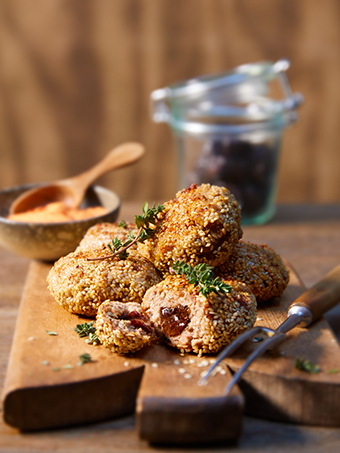 Ingredients
For the dip:
½ a red pepper
½ a yellow pepper
300 g natural yoghurt (3.5% fat)
1 tbsp paprika powder
1 tbsp chilli flakes
salt to taste

For the meatballs:
1 onion
400 g mixed minced meat
2 eggs (medium)
60 g grated Parmesan
2 tsp fresh thyme, chopped
salt and pepper to taste
8 SUNSWEET prunes
40 g hulled sesame seeds for rolling
4 tbsp olive oil
Instructions
For the dip, wash the peppers and cut into small pieces.
Blend the chopped pepper, yoghurt, paprika powder and chilli flakes together in a mixer, season with salt and keep cool.
For the meatballs, peel and finely chop the onion. Knead the minced meat with the chopped onion, eggs, Parmesan cheese, thyme, salt and pepper.
Form the minced meat mixture into 8 meatballs and place a prune inside each meatball.
Scatter the sesame seeds on a plate and roll the meatballs in them until they are completely covered. Then shake off the excess and fry the meatballs in hot olive oil for about 10 minutes until golden brown all over. Drain on kitchen towels.
Serve the meatballs with the dip.
Recipe Categories
Canapes and Savoury Snacks, LP Bone Health, LP Gluten Free,
Recipe Tags
["Gluten Free","Under 500 calories"]
12, 27, 26,
Other Recipes you might like...