Breakfast rolls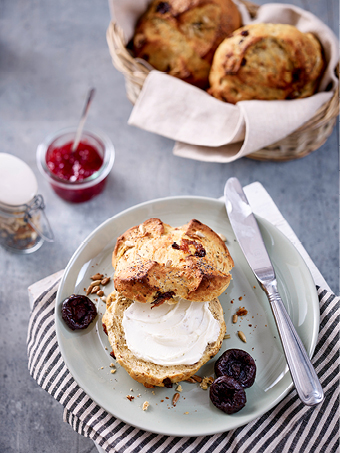 Ingredients
275 ml + 2 tbsp milk
175 g SUNSWEET prunes
1 cube (42 g) yeast
300 g flour
200 g wholemeal flour
60 g butter
1 egg (medium)
50 g white oats
50 g almond kernels with skin
30 g walnut kernel halves
3 tbsp sunflower seeds
1 tbsp + 1 tsp poppy seeds

baking paper
Instructions
Warm the milk. Blend together 125 ml lukewarm milk and 100 g prunes until smooth. Mix together yeast and milk mix. Place flour in a bowl and make a hollow in the centre. Pour the yeast mixture into the centre, stir in a little flour from the edge and cover with flour. Cover and leave to rise for approx. 15 minutes.
Melt 50 g butter. Add butter, egg, 150 ml milk and oats to starter dough from earlier and knead to form a smooth dough. Cover dough and leave to rise in a warm place for approx. 30 minutes.
Chop the almonds and walnuts finely. Cut the remaining prunes into small cubes. Briefly knead the almonds, walnuts, 2 tbsp sunflower seeds, 1 tbsp poppy seeds and prune cubes into the dough. Divide the dough into 10 even pieces, form into rolls and place on a baking tray lined with baking paper. Cut the surface of the rolls crosswise and cover. Leave to rise for approx. 20 minutes.
Melt the remaining butter, stir in the remaining milk. Brush the rolls with the milk mixture. Scatter 1 tbsp sunflower seeds and 1 tsp poppy seeds over the rolls. Bake the rolls in a preheated oven (electric oven: 200°C/fan: 180°C) for 15-20 minutes until golden brown. Remove the rolls from the oven and allow to cool.
Recipe Categories
Breakfast, Desserts and Sweet Treats, LP Bone Health,
Recipe Tags
["Vegetarian/Meatless","Under 500 calories"]
4, 9, 27,
Other Recipes you might like...