Feta, lentil and spelt salad with Orange Dressing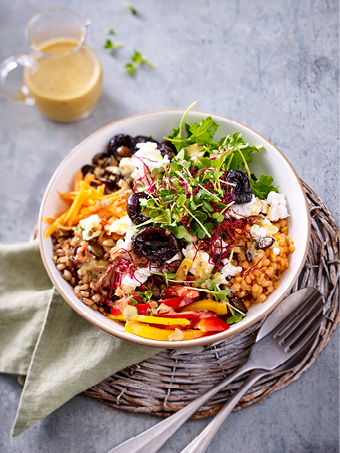 Ingredients
150 g spelt grains
salt
350 g carrots
1 yellow and 1 red pepper
75 g pumpkin seeds
50 g beetroot sprouts
1 tray garden cress
150 g red lentils
150 g baby lettuce mix
1 small red chilli pepper
300 g SUNSWEET prunes
1 orange
1 tbsp olive oil
5 tbsp raspberry vinegar
pepper
200 g feta cheese
Instructions
Soak spelt grains in cold water for approx. 6 hours, preferably overnight, then strain and rinse them and cook in boiling salted water for about 25 minutes. Peel and grate the carrots. Clean the peppers and cut into strips. Toast the pumpkin seeds in a pan without fat. Wash the beetroot sprouts and cress and drain well. Cook the lentils in boiling water for 8-10 minutes. Strain. Strain the spelt and rinse off. Wash the lettuce mix and drain.
For the dressing, halve the chilli pepper lengthwise and remove the seeds. Cut 30 g prunes into small pieces. Cut the orange in half and squeeze out the juice. Place 75 ml orange juice, oil, vinegar, chilli pepper and finely cut prunes in a container and blend until smooth. Add salt and pepper to taste.
Distribute the carrots, pepper strips, lentils, spelt, lettuce leaves and remaining prunes over 4 bowls. Crumble the feta and scatter this together with the pumpkin seeds, beetroot sprouts and cress over the salad bowls. Drizzle the dressing over the salads.
Recipe Categories
LP Bone Health, Mains, Sides and Salads,
Recipe Tags
["Vegetarian/Meatless"]
27, 11, 10,
Other Recipes you might like...