Fruit and yoghurt parfait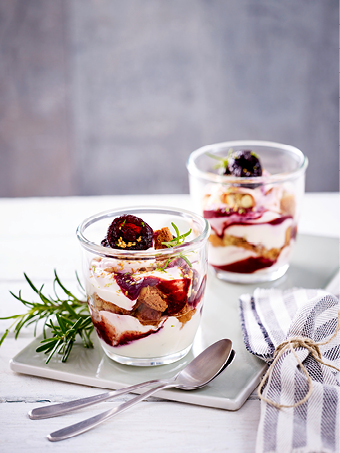 Ingredients
1-2 sprigs of rosemary
125 g SUNSWEET prunes + 4 SUNSWEET prunes for decoration
150 g frozen blueberries
75 ml apple juice
1 organic lime
650 g Greek yoghurt (10% fat)
1-2 tbsp liquid honey
150 g Cantuccini (Italian almond biscuit)
2 tbsp sesame seeds
Instructions
Wash the rosemary and shake it dry. Remove the needles from the twigs. Cut 125 g prunes into small pieces. Blend together with blueberries, rosemary needles (leaving a few for decoration) and apple juice.
Wash the lime in hot water and dry. Remove the zest from half the lime. Cut the lime in half and squeeze out the juice. Stir together the yoghurt, honey, lime juice and lime zest. Cut Cantuccini biscuits into small pieces. Toast the sesame seeds in a pan without fat and pour onto a plate.
Cut the four prunes in half. Layer yoghurt cream, blueberry puree and Cantuccini biscuits in dessert glasses. Decorate with the halved prunes and remaining rosemary needles.
Recipe Categories
Desserts and Sweet Treats, Easter, LP Bone Health, LP Prep Under 15 mins,
Recipe Tags
["Vegetarian/Meatless","Under 500 calories","Prep under 15 Mins"]
9, 21, 27, 25,
Other Recipes you might like...