Creamy rice pudding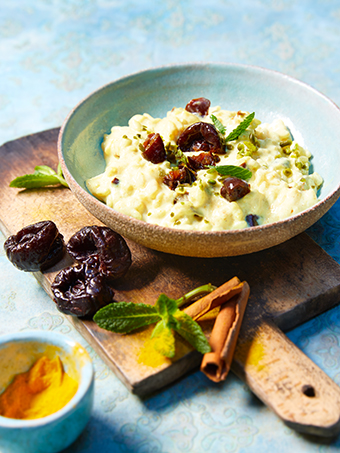 Ingredients
400 ml milk (3.5% fat)
80 g pudding rice
100 g SUNSWEET prunes
100 g mascarpone
1 tsp ground cardamom
1 tsp ground turmeric
1 tsp ground cinnamon
1 tsp ground coriander
20 g chopped pistachios
Instructions
Pour the milk into a high-sided saucepan and bring to the boil. Add the pudding rice and cook for 20-25 minutes, stirring constantly without a lid until cooked then leave to cool completely.
Cut prunes into at least 8 pieces. Stir mascarpone and prune pieces into the creamy rice and season with the spices.
Scatter pistachios over the creamy rice.
Recipe Categories
Breakfast, Desserts and Sweet Treats, LP Bone Health,
Recipe Tags
["Vegetarian/Meatless","Under 500 calories"]
4, 9, 27,
Other Recipes you might like...