Lentil curry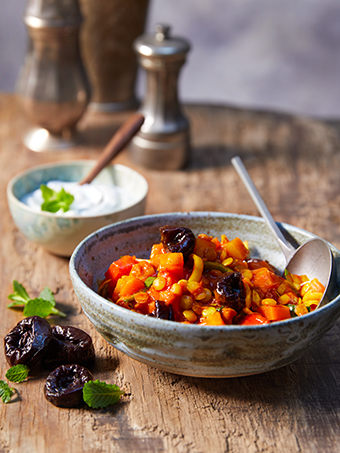 Ingredients
2 onions
1 garlic clove
400 g potatoes
400 g carrots
400 g leeks
2 vine tomatoes
100 g SUNSWEET prunes
2 tbsp olive oil
3 tbsp mild curry powder
2 tbsp ground cumin
4 tbsp tomato puree
600 ml water
60 g green or brown lentils
salt and pepper to taste
300 g natural yoghurt (3.5% fat)
4 tbsp fresh mint or parsley, chopped
Instructions
Peel and finely dice the onions and garlic clove.
Peel the potatoes and carrots and cut into 1 cm cubes. Slice the leeks and rinse thoroughly.
Remove the stem of the tomatoes. Roughly dice the tomatoes and prunes.
Heat the olive oil in a saucepan. Sauté the onions and garlic in the oil for 2 minutes.
Add the curry powder, cumin and tomato puree and cook together while stirring. Add the lentils, pour in 600 ml water, bring to the boil, cover and cook over a medium heat for 10 minutes.
Add the potatoes, carrots and leeks, season with salt and pepper and continue cooking for about 20 minutes. Mix in the tomatoes and prunes and cook for a further 5 minutes.
Stir the mint into the natural yoghurt and serve with the lentil curry.
Recipe Categories
LP Bone Health, Mains,
Recipe Tags
["Vegetarian/Meatless"]
27, 11,
Other Recipes you might like...