Granola smoothie bowl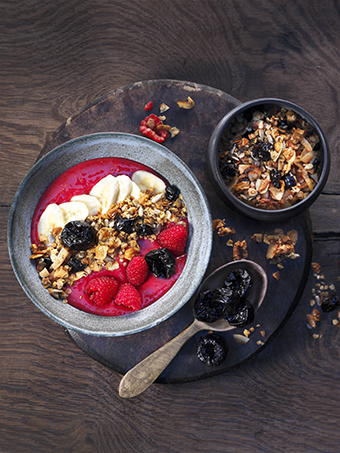 Ingredients
For the Granola:
80 g butter
125 g mild blossom honey
250 g oat flakes
100 g coconut flakes
100 g sunflower seeds
50 g chopped almonds
8 g of Bourbon vanilla sugar
1 heaped tsp ground Ceylon cinnamon
Approx. 240 g SUNSWEET prunes
1 deep baking tray (drip tray)

For the Smoothie Bowl:
600 g slightly thawed frozen raspberries
4 medium-sized bananas
300-400 ml orange juice
225 g prune granola (recipe above)

Optional for topping:
150-200 g fresh raspberries
Instructions
Granola:
Have deep baking tray ready. Preheat the oven to 160°C (fan 140°C). Melt the butter and honey in a saucepan over a low heat and then remove from the hob.
In the meantime, mix together oat flakes, coconut flakes, sunflower seeds, almonds, vanilla sugar and cinnamon in a large bowl. Add the butter and honey mixture, stir in well and spread over the baking tray. Bake in the middle of the oven for about 20-22 minutes until golden brown, stirring after 10, 15 and 20 minutes so that the mixture bakes evenly. After baking, place the tray on a rack and let it cool down for at least 30 minutes.
Cut the prunes into quarters and mix them with the granola just before serving.
Tip: This makes 16 portions and if you store it in a jar with an airtight cap, it will keep for about 6 weeks.
Smoothie Bowl:

1. Blend raspberries, 3 bananas and 300 ml orange juice in a mixer, if necessary, adding the remaining orange juice until you have a thick and creamy consistency. Pour the smoothie into a bowl and sprinkle with prune granola. Cut the remaining banana into slices over the bowl and garnish with fresh raspberries if desired.
Recipe Categories
Breakfast, Desserts and Sweet Treats, LP Bone Health,
Recipe Tags
["Vegetarian/Meatless","Under 500 calories"]
4, 9, 27,
Other Recipes you might like...