Pumpkin crumble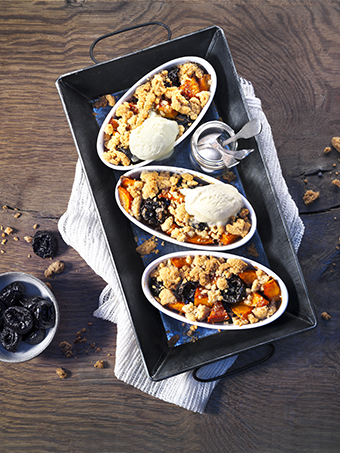 Ingredients
1 kg Musquée de Provence pumpkin (weighing 650 g when cleaned and deseeded)
25 g root ginger
Grated zest of 1 organic lemon
8 g of Bourbon vanilla sugar
80 g demerara sugar
1 tsp ground Ceylon cinnamon
100 g SUNSWEET prunes
125 g white or wholemeal flour (wheat or spelt)
Salt
80 g cold butter
200 g vanilla ice cream

Also:
1 baking tin 20 x 30 cm
Fat to grease the tin
Instructions
Grease the baking tin. Halve the pumpkin, deseed, peel and cut into approx. 1.5 cm cubes. Peel and grate the ginger. Mix pumpkin, ginger, lemon zest, vanilla sugar, 25 g of the demerara sugar and ½ tsp cinnamon in a bowl. Place into the baking tin. Halve the prunes and mix together with the pumpkin cube mix.
Preheat the oven to 190°C (fan 170°C). Combine the flour, remaining demerara sugar, salt and remaining cinnamon in a mixing bowl. Cut the butter into small pieces and add to the mixture. Rub the butter into the flour mixture to form a crumble topping and then spread over the pumpkin mix. Bake the crumble in the middle of the oven for approx. 35 minutes.
Take it out of the oven and place on a cooling rack. Serve portions of the crumble with slightly softened vanilla ice cream as a topping.
Recipe Categories
Desserts and Sweet Treats, LP Bone Health,
Recipe Tags
["Vegetarian/Meatless","Under 500 calories"]
9, 27,
Other Recipes you might like...