Watermelon, feta and rocket salad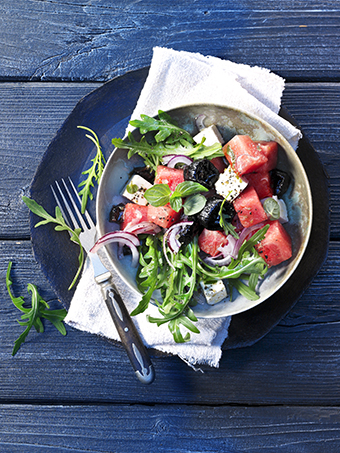 Ingredients
5 tbsp lemon juice
½ tsp dried oregano
½ tsp salt
1 pinch of ground black pepper
5 tbsp olive oil
1 garlic clove
1 stalk of fresh mint
75-100 g SUNSWEET prunes
125 g young rocket leaves
300 g seedless red watermelon flesh
75 g red onion
200 g feta cheese
Instructions
Mix together the lemon juice, oregano, salt, pepper and olive oil in a salad bowl. Peel the garlic, crush it in a garlic press and add to the bowl. Wash the mint, shake it dry, remove the leaves and cut into thin strips. Cut the prunes into quarters. Stir the mint and prunes into the bowl with the other ingredients.
Wash the rocket leaves and drain well in a colander. Cut the watermelon flesh into roughly 2 cm cubes. Peel the onion, halve it and cut into very fine rings. Cut the feta cheese into roughly 1 cm cubes. Shortly before serving, carefully fold first the rocket and onion into the salad dressing and then the melon and feta cheese.
Recipe Categories
LP Bone Health, LP Gluten Free, Sides and Salads,
Recipe Tags
["Vegetarian/Meatless","Gluten Free","Under 500 calories"]
27, 26, 10,
Other Recipes you might like...