Fruit, nut and goats cheese salad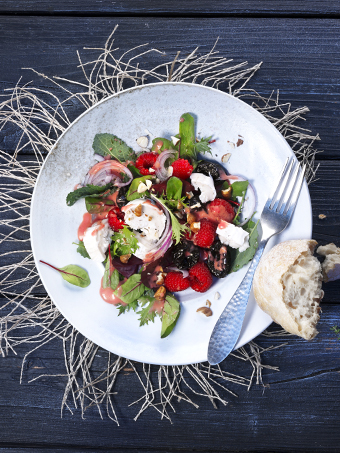 Ingredients
250 g raspberries
1 tsp Dijon mustard
1 tsp creamy blossom honey
4 tbsp white balsamic vinegar
3 tbsp hazelnut oil
2 tbsp olive oil
¼ tsp salt
1 pinch of ground black pepper
250 g ready-to-eat mix of assorted small salad leaves
50 g red onion
125 g SUNSWEET prunes
200 g soft goats' cheese
25 g chopped hazelnuts
4 stems of fresh thyme
Instructions
Place 75 g of the raspberries, mustard, honey, balsamic vinegar, hazelnut oil, olive oil, salt and pepper in a mixing jug and mix to produce a thick dressing.
Wash the salad leaf mix, drain well in a colander and divide among four deep serving bowls. Peel the onion, cut into fine rings and distribute over the salad leaves. Sprinkle with raspberry dressing. Add prunes and remaining raspberries to the salad portions. Crumble soft goats' cheese over the salad portions, sprinkle with the chopped hazelnuts and garnish with thyme.
Recipe Categories
LP Bone Health, LP Gluten Free, Sides and Salads,
Recipe Tags
["Vegetarian/Meatless","Gluten Free","Under 500 calories"]
27, 26, 10,
Other Recipes you might like...