Prune Biscotti with White Chocolate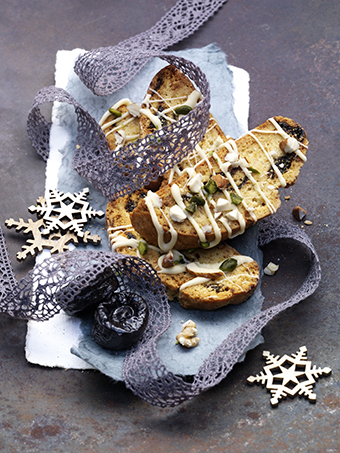 Ingredients
280 g flour
1 tsp. baking powder
1 pinch salt
160 g sugar
90 g butter (molten)
2 eggs
1½ tsp. bourbon vanilla sugar
100 g SUNSWEET prunes, finely chopped
60 g almonds, ground
1 egg white (large)
80 g white chocolate
80 g mixed nuts, coarsely chopped

Instructions
Sieve flour, baking powder and salt into a bowl and mix well. Combine sugar, butter, eggs, vanilla sugar and chopped prunes in another large bowl and mix. Add flour mix and stir well with a wooden spoon. Add almonds.
Divide dough into halves. Flour hands and shape 2 logs, each approx. 10 cm long. Line a baking sheet with parchment paper and place logs on it. Space logs well apart.
Beat egg white in a cup until frothy. Paint the logs with the egg white.
Bake in a pre-heated oven at 170 °C (not suitable for convection ovens) for 35 minutes on the centre rack. Remove baking sheet from the oven and let logs cool completely. Melt chocolate. Coarsely chop nuts.
Remove logs from baking sheet and cut diagonally into slices using a serrated knife. Place slices on the baking sheet (with parchment paper) and bake for another 12 minutes. Turn slices and bake for 8 more minutes. Remove to a rack and cool. Decorate with melted chocolate and sprinkle with chopped nuts. Wait until chocolate has solidified and wrap as a gift.
Recipe Categories
Christmas, Desserts and Sweet Treats,
Recipe Tags
Other Recipes you might like...