Prune Stollen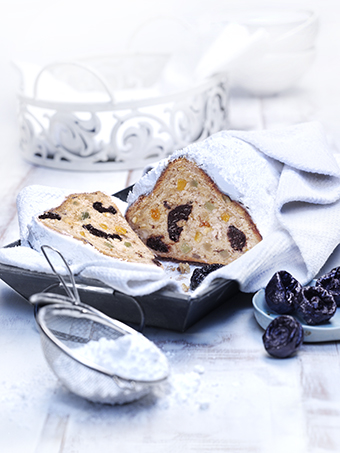 Ingredients
150 g SUNSWEET prunes
50 g raisins
50 g candied orange peel
50 g candied lemon peel
140 g butter
10 tbsp. brown rum
350 g flour
7 g dry yeast
50 g sugar
1½ tsp. vanilla sugar
Salt
2 tsp. lemon zest
2 eggs
150 g chopped almonds
100 ml milk
80 g melted butter
Icing sugar for dusting

Instructions
Combine prunes, raisins, candied orange and lemon peel with rum and 10 tbsp. of warm water and soak overnight. Melt butter. Mix flour, yeast, sugar, vanilla sugar, salt, grated lemon zest, eggs, almonds and butter. Gradually add lukewarm milk and use the kneading hooks of the hand mixer. Finally, knead the dough powerfully with your hands.
Cover and allow dough to sit in a warm place for at least 1 hour until volume has significantly increased. Add the soaked fruits and work them into the dough with your hands. Let dough rest for another 2 hours.
Preheat the oven to 180° C (160° C convection oven). Shape dough into an oval. Press centre of dough down with a rolling pin. Fold one half of the dough over. Place stollen on a baking sheet lined with parchment paper and transfer into preheated oven. Bake for approx. 60 minutes.
Brush hot stollen immediately with melted butter and dust with icing sugar. When stollen is completely cooled, dust again with icing sugar, cut into slices and serve.
Recipe Categories
Christmas, Desserts and Sweet Treats,
Recipe Tags
Other Recipes you might like...