Chicken Radicchio Roll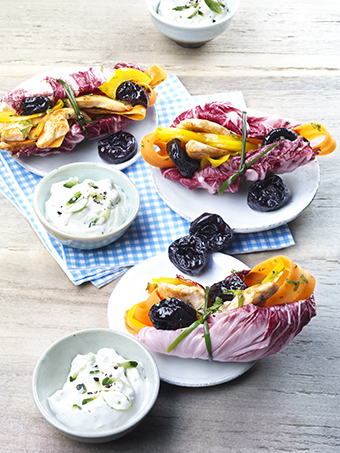 Ingredients
300 g chicken breast
Salt, pepper
1 bunch of wild herbs
2 yellow sweet peppers
150 g SUNSWEET prunes
2 large carrots
1 cucumber
3 tbsp. olive oil
2 large radicchio heads
200 g yoghurt
Chives, long-stalked

Instructions
Wash chicken and cut into strips, season with salt and pepper. Wash herbs and chop coarsely. Clean yellow peppers and cut into fine strips. Cut prunes in halves. Peel carrots, cut into thin slices. Wash cucumber, dice, and salt.
Heat oil in a pan. Sauté chicken strips on all sides over high heat for 5 minutes. Transfer to a bowl and add vegetables and prunes. Remove stalk from radicchio as a wedge-shaped piece discard large leaves. Wash the leaves.
Firmly squeeze out excess liquid from cucumber and stir together with yoghurt. Place radicchio leaves on a countertop and add the chicken-vegetable mixture. Spread herbs on top and roll them up. Tie together with chive stalks and serve with the yoghurt.
Recipe Categories
Canapes and Savoury Snacks, LP Bone Health, Mains,
Recipe Tags
["Under 500 calories"]
12, 27, 11,
Other Recipes you might like...