Spaghetti with Walnut Spinach Pesto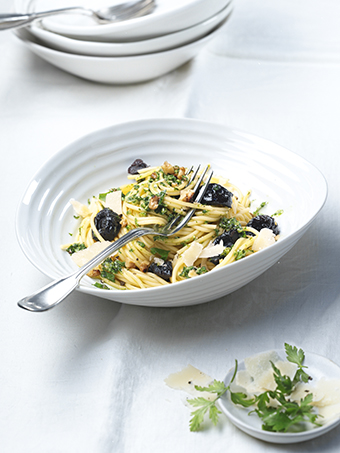 Ingredients
400 g spaghetti
100 g young spinach leaves
½ bunch of flat-leaf parsley
60 g walnuts
1 clove of garlic
100 g SUNSWEET prunes
80 ml olive oil
100 g fresh Parmesan cheese, grated
Salt & pepper
Instructions
Cook the pasta according to package directions.
For the pesto, finely chop spinach and parsley. Roast walnuts in a pan without oil. Peel and coarsely chop garlic. Cut prunes into small cubes.
Combine spinach and parsley with walnuts, garlic, and oil in a bowl and mix gently. Fold Parmesan and prunes under the mixture. Season with salt and pepper.
Drain pasta, mix with the pesto and serve immediately with coarse pepper and Parmesan.
Recipe Categories
LP Bone Health, Mains,
Recipe Tags
["Vegetarian/Meatless","Pasta"]
27, 11,
Other Recipes you might like...