Zucchini Fritters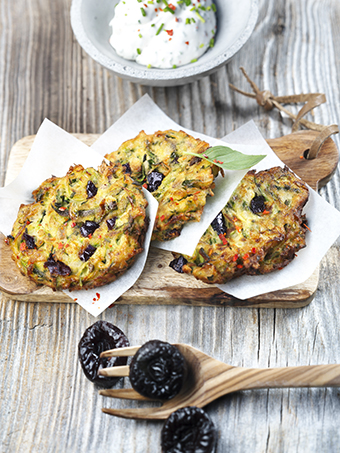 Ingredients
300 g zucchini
Salt
150 g SUNSWEET prunes
2 red onions
½ bunch of basil
½ bunch of chives
80 g coconut flour
1 egg
Salt & pepper
Oil to fry
Instructions
Coarsely grate zucchini, season with salt, and set aside for 10 minutes.
Dice prunes and onions. Cut basil into strips and chives into rings.
Squeeze zucchini vigorously with both hands to drain excess water. Place in a separate bowl. Add flour, egg, onions, basil, salt and pepper, and stir until mixture is smooth. Allow to stand for 10 minutes.
Heat oil in a pan. Drop heaping tablespoons of batter into hot oil and fry each side for about 2 minutes until golden brown. Drain on a kitchen towel and serve.
Tip: a chive mayonnaise dip works well with this dish.
Recipe Categories
LP Bone Health, LP Gluten Free, Mains, Starters and Appetizers,
Recipe Tags
["Vegetarian/Meatless","Gluten Free","Under 500 calories","Paleo"]
27, 26, 11, 5,
Other Recipes you might like...