Paleo Chocolate Pudding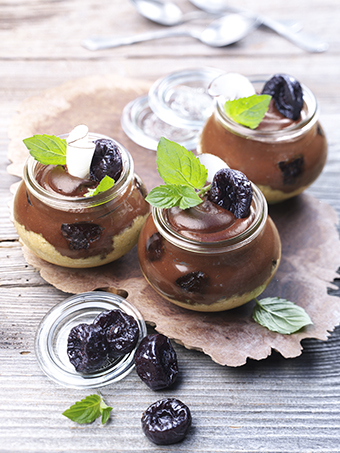 Ingredients
For the bottom crust:
80 g ground almonds, toasted
3 tbsp. butter, melted
2 tbsp. honey
1 tbsp. cocoa powder
Salt

For the pudding:
400 ml coconut milk
80 g cocoa powder
1 tbsp. Guar gum (available in well-stocked supermarkets or health food shops)
50 ml maple syrup
2 tbsp. butter
Seeds of 1 vanilla pod
100 g SUNSWEET prunes
Mint & coconut for garnishing

Instructions
Combine all ingredients for the bottom crust. Put the mixture into small jars and press down to cover the bottom. Then refrigerate.
Put all the ingredients apart from prunes for the pudding into a bowl and blend well with a hand blender until it thickens. Coarsely chop prunes and add to the mixture. Fill pudding into the glasses and chill again. Garnish with mint and coconut.
Recipe Categories
Desserts and Sweet Treats, LP Prep Under 15 mins,
Recipe Tags
Under 500 calories, Prep under 15 Mins, Paleo,
Other Recipes you might like...