Peppered Lamb Fillet with Balsamic Tomatoes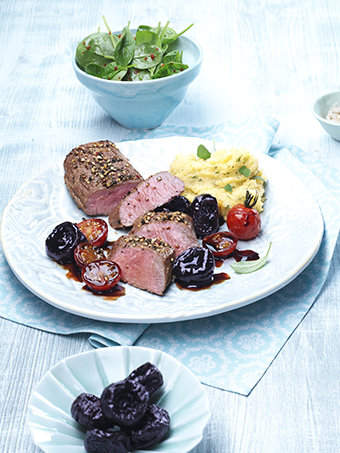 Ingredients
3 tbsp. black pepper
3 tbsp. coriander seeds
4 lamb fillets
7 tbsp. olive oil
2 cloves of garlic
2 sprigs of rosemary
7 tbsp. of honey
80 ml balsamic vinegar
100 g cherry tomatoes, halved
100 g SUNSWEET prunes, coarsely chopped
250 g polenta semolina
½ bunch of parsley
2 sprigs of sage
40 g Parmesan cheese (grated)
Salt
Instructions
Finely chop pepper and coriander. Wash lamb fillets, pat dry and season with pepper and coriander. Heat 4 tablespoons of olive oil with crushed garlic and rosemary. Add the lamb fillets and fry on each side for 2 minutes. Then wrap the meat with garlic and rosemary in tinfoil and bake on a baking tray in a preheated oven at 160° C for 15 minutes (convection oven 140° C).
Add honey and balsamic vinegar to a pan. Allow to boil for 5 minutes, add cherry tomatoes and prunes, then remove from heat.
Bring 1 litre of water to a boil together with 1 teaspoon of salt and the remaining olive oil. Stir in polenta and leave to simmer for 10 minutes over medium heat. Finely chop parsley and sage and stir into the polenta semolina. Fold in Parmesan cheese.
Take lamb out of the oven, let it rest for 2 minutes and cut into slices. Serve lamb with polenta and balsamic tomatoes.
Tip: baby spinach salad works well as a side dish.
Recipe Categories
Easter, LP Bone Health, Mains,
Recipe Tags
21, 27, 11,
Other Recipes you might like...